Magic Tricks for Kids: Easy Step-by-Step Instructions for 25 Amazing Illusions (Paperback)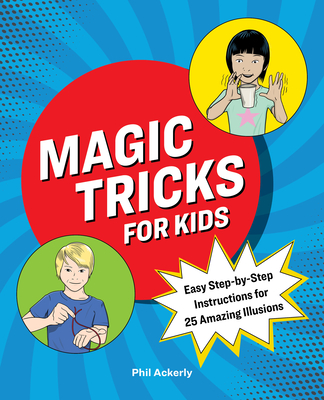 $14.99
This item is out of stock with our warehouse. Some recently published books may be in stock @ Room. Email to check.
Description
---
Learn magic and performance skills with 25 astounding magic tricks!
Want to learn how to levitate a coffee cup? Magically double your money? Become a mind reader? Discover the secrets to these tricks and more in
Magic Tricks for Kids
. Watch jaws drop as you perform these wonderful illusions using simple, step-by-step instructions and homemade props.
Gain confidence with easier tricks at the start of the book before moving on to more complex magic tricks that require sleight-of-hand skills. Finally, learn some spellbinding card tricks and how to make items appear out of thin air! You'll wow your family and friends while learning the art of a mesmerizing performance.
Magic Tricks for Kids
includes:
DIY magic—All the magic tricks use simple household objects, making them easy to perform anytime. A chapter on magical crafts also shows you how to make a magic wand, a magic box, and a magic table to help you put on fantastic shows at home.
The code—Learn the respected "Magician's Code," including the most important rule—never reveal how the trick is done.
More than magic—With sample scripts to go along with each trick, you'll learn the art of patter—injecting your performance with comedy, suspense, and surprise!
With
Magic Tricks for Kids
, you'll blow minds and astonish your friends.
About the Author
---
PHIL ACKERLY is a magician and speaker who has performed more than 10,000 shows in his 40-year career. He has won multiple awards in close-up, parlor, and stage magic, and has performed all over the country including the Magic Castle in Hollywood, California, and off-Broadway in New York City at Monday Night Magic. Phil lives in Santa Clara, California, and his website is www.makephilappear.com.
Praise For…
---
"If you have young tykes at home, Magic Tricks for Kids will provide hours of fascination as they learn Phil Ackerly's collection of easy-to-do pocket sized illusions—all made from household objects! If you learn and practice with your 6–10 year old, following the straightforward instructional text and simple illustrations will create successful moments of magic, and more importantly, memorable bonding moments. And with 25 classic beginner magic routines, preteens might even find themselves creating an entire show to perform for friends and family." —Danny Orleans, Corporate Magician, Author, Teacher

"Magic Tricks for Kids is exactly the kind of book I started learning from at age 11. Just like a baby must crawl before he or she walks, a beginner magician must learn the easy tricks first, then work his way up. Phil Ackerly has done a masterful job of teaching beginners in this book. The text and illustrations are simple and to the point. And as a book lover, I applaud the colorful layout graphics. If I was a kid again, instead of a seasoned pro and author of magic books myself, Magic Tricks for Kids would inspire me to learn, experience, and have fun with magic." —David Ginn, Author of Kidshow Magic Kompendium

"One thing my years as a mother, teacher, and school librarian have taught me is that children love magic, but it is hard to find a book written by someone who understands the limitations of language and dexterity in a developing child. However, from page one to the last page of this book, there is no doubt Phil knows how to talk to kids about magic. The instructions and illustrations are easy to understand and follow, and he covers everything a budding magician needs to know, from making the props, to learning the skills, to knowing what to say and do when actually performing a trick." —Linda Johns, Elementary Library Media Specialist

"This is so much more than a mere book of tricks. This develops crucial skills for success in life: how to engage people and clearly communicate, self-esteem as people respond to the magic, the value of achievement and mastery, and the joy of surprising and delighting other people. Phil Ackerly's knowledge and his decades of experience shine through every page. This book will immediately build kids' confidence as they learn skills that will stay with them their whole lives." —Kim Silverman, PhD, Principal Research Scientist

"Do you want to learn magic? This book is the way to go! Along with 25 excellent tricks with household props, Phil teaches performance skills that turn tricks into magic!" —Larry Hass, Ph.D., Dean of McBride's Magic & Mystery School in Las Vegas