Hard as Stone Trilogy Omnibus (Hardcover)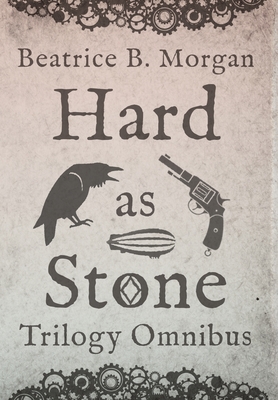 $39.99

In stock with our warehouse--usually ships within 1-7 days. May or may not be in stock at Room.
Description
---
This omnibus edition of the Hard as Stone series brings the entire trilogy together in one volume
Hard as Stone
Seventeen-year-old Raven Thane wants an adventure...and she's going to get one. Just not the way that she expected. Bored and disinterested with a routine life in her remote underground community, she fails to notice a thief during her turn at guard duty. Zander, a charming sharpshooter, tasks her with helping him retrieve the mysterious stolen item. Posing as a couple on the road, they'll face deadly automatons and Gray Elite soldiers, entangle themselves in a complicated world of spies and freedom fighters, and hide secrets of their own. Can Raven fix her mistake and prove herself more than a simple country girl? Or will she create even more chaos?
Thick as Blood
With the stolen centrum recovered, Raven's adventure with Zander is over. Or is it? Raven's lingering fever worries the Dwellers, and Zander is set on returning her to Silver Glen, pushing her out of their plans to rescue Princess Rosaria. But even when the Hammel Forest seems quiet, a dangerous automaton is always around the next tree. After Raven finds herself in the midst of another rebel caravan, she has a choice to make. Will she return to life underground, find her way back to Zander and the mission, or get swept away on an exciting new journey?
Strong as Steel
After a harrowing escape from the Gray Elite, everything is in shambles: Zander's lost his arm, General Deacon will hunt Raven at any cost, and an unexpected ally seeks asylum on their airship. But one thing is going right for Raven-she has magic, thanks to the centrum, and now she needs to learn how to use it. When Raven and her friends seek information about her strange power, she is offered a chance to become a Wraith like Zander.
The journey brings more answers than Raven has ever dreamed of as she discovers as much about her own heart as her magic. Will the truth behind her power be enough to change the world or protect the ones she loves?
Authors 4 Authors Content Rating
This title is rated 17+, appropriate for older teens and adults, and contains:
Brief strong language
Brief graphic violence
Brief sex
Mild alcohol use
Mild negative illicit drug use
Mild positive and negative fantasy drug use
For more information on our rating system, please, visit our Content Guide.