Banzeiro Òkòtó: The Amazon as the Center of the World (Paperback)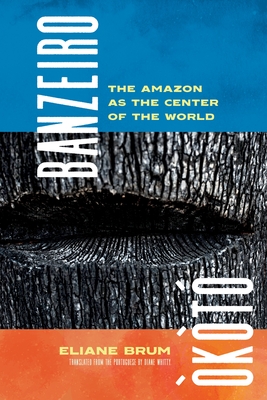 $18.00

In stock with our warehouse--usually ships within 1-7 days. May or may not be in stock at Room.
Description
---
A confrontation with the destruction of the Amazon by a writer who moved her life into the heart of the forest.

In lyrical, impassioned prose, Eliane Brum recounts her move from São Paulo to Altamira, a city along the Xingu River that has been devastated by the construction of one of the largest dams in the world. In community with the human and more-than-human world of the Amazon, Brum seeks to "reforest" herself while building relationships with forest peoples who carry both the scars and the resistance of the forest in their bodies. Weaving together the lived stories of the region and its history of violent corruption and destruction, Banzeiro Òkòtó is a call for radical change, for the creation of a new kind of human being capable of facing the potential extinction of our species. In it, Brum reveals the direct links between structural inequities rooted in gender, race, class, and even species, and the suffering that capitalism and climate breakdown wreak on those who are least responsible for them.

The title Banzeiro Òkòtó features words from two cultural and linguistic traditions: banzeiro is what the Amazon people call the place where the river turns into a fearsome vortex, and òkòtó is the Yoruba word for a shell that spirals outward into infinity. Like the Xingu River, turning as it flows, this book is a fierce document of transformation arguing for the centrality of the Amazon to all our lives.
About the Author
---
Eliane Brum is an award-winning Brazilian journalist, writer, and documentarist. Her first work of nonfiction to be translated into English, The Collector of Leftover Souls, was long-listed for the National Book Award. She lives in Altamira, in the Amazon.

Diane Whitty has translated over a dozen major books from the Portuguese, including The Collector of Leftover Souls by Eliane Brum. She spent twenty-three years in Brazil and now lives in Wisconsin with her husband.
Praise For…
---
"Banzeiro Òkòtó is at once a work of reportage, a manifesto for social and agrarian transformation, and no less than a blueprint for a new cosmography. . . . Brum may be suspicious of the 'dogma of hope,' then, but she never lapses into cynicism or despair. She offers instead community, solidarity, resourcefulness and a bracing defiance."—William Atkins, The New York Times Book Review

"A chronicle as transporting and harrowing as a mighty river. . . . [Brum is] an astute writer of conscience as lyrically intimate, passionate, and precise as Terry Tempest Williams. . . . [Her] fiercely illuminating testimony asserts in fresh and vital ways that the Amazon, the 'center of the world,' is essential to life on Earth."—Booklist

"Brum adopts an unconventional form to her work as a way of shedding the uncomfortable colonial connotations of her own Whiteness. . . . [A] formidable chronicle of the increasingly deforested world of the Amazon."—Kirkus Reviews

"Devastating, extraordinary, and unforgettable."—Rebecca Servadio, Words Without Borders

"Brum is a powerful, poetic voice for those environmental activists struggling to resist, before it is too late, the further degradation of her life-affirming Amazon."—Foreign Affairs

"Brum moves from a personal scale to a historic one and back again; the result is a work of environmental reportage like little else out there."—Tobias Carroll, Words Without Borders

"Banzeiro Òkòtó is the ultimate guidebook to the Amazon. Not a travel guide, but one that takes you much deeper, right into the forest's deep soul. The wonder of it, the oneness of the indigenous people with the land, the horror of the genocide they're still resisting, the corruption and the terrible violence—always inextricably linked—perpetrated by the grileiros and their political allies as they seek to convert one of the world's greatest treasures into cash. More than anything, Banzeiro Òkòtó is about the battle to save the Amazon from destruction, and this is a battle we all need to care about—the fate of humanity, amongst other species, utterly depends on it."—Patrick Alley, co-founder of Global Witness

"In this heartbreaking book, Eliane Brum reports on the irreplaceable realm we are losing in the Amazon—not just the imperiled fauna and flora, but also the people who steadfastly remain, showing us how we can champion their survival and our own. A book of paramount significance."—Idra Novey, author of Take What You Need

"Eliane Brum's searing, complacency-shattering testimonial on behalf of the Amazon echoes the brutally violent experience of Indigenous people around the world, and their ongoing resistance to climate apartheid imposed by predatory capitalism. In passionate, transformative language, Brum exhorts us to move beyond the myth of sustainability and embrace the radical, hegemony-busting truth of this Indigenous teaching: we are the earth."—Diane Wilson, author of The Seed Keeper

"In Banzeiro Òkòtó, Eliane Brum casts our survival as a species as being on the line with what happens in the Amazon, its forests, lands, rivers, and people. She does so with fierce intensity, putting her whole being into the heat and heart of it. She takes apart the forces of whiteness (including her own), the economic and political structures that colonize, exploit, extract, and enslave. Those same forces threaten and kill those acting against them, and those speaking and writing truth to power—which is exactly what Brum has been doing, and what she does now with this brave, beautiful, and necessary new book."—Rick Simonson, Elliott Bay Book Company

"A book that distills a lifetime of listening, wild with empathy, and refines it in the fire of unimpeachable political acuity. Written with diamond intelligence, Brum gives the reader the reforested human: impassionate, courageous, and complete."—Jay Griffiths, author of Wild: An Elemental Journey

"Many books have been written about the Amazon, but this is gut-wrenchingly, mind-expandingly of the Amazon, its joy and tragedy, its violence and beauty. Read it and understand."—Fred Pearce

"In this passionate and eloquent dispatch from the Amazon, Eliane Brum creates her own devastating poetry and politics of deforestation."—Chloe Aridjis, author of Sea Monsters