Sinking Bell: Stories (Paperback)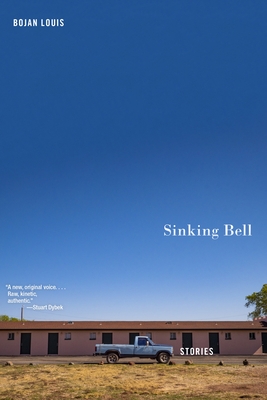 $16.00
This item is out of stock with our warehouse. Some recently published books may be in stock @ Room. Email to check.
Description
---
Potent stories that offer a forceful vision of contemporary Navajo life, by an American Book Award winner

An ex-con hired to fix up a school bus for a couple living off the grid in the desert finds himself in the middle of their tattered relationship. An electrician's plan to take his young nephew on a hike in the mountains, as a break from the motel room where they live, goes awry thanks to an untrustworthy new coworker. A night custodian makes the mistake of revealing too much about his work at a medical research facility to a girl who shares his passion for death metal. A relapsing addict struggles to square his desire for a white woman he meets in a writing class with family expectations and traditions.

Set in and around Flagstaff, the stories in Sinking Bell depict violent collisions of love, cultures, and racism. In his gritty and searching fiction debut, Bojan Louis draws empathetic portraits of day laborers, metalheads, motel managers, aspiring writers and musicians, construction workers, people passing through with the hope of something better somewhere else. His characters strain to temper predatory or self-destructive impulses; they raise families, choose families, and abandon families; they endeavor to end cycles of abuse and remake themselves anew.
About the Author
---
Bojan Louis is Diné of the Naakai Dine'é, born for the Áshííhí. He is the author of a book of poetry, Currents, which received an American Book Award. He has been a resident at MacDowell and teaches creative writing at the University of Arizona.
Praise For…
---
Winner of the 2023 American Book Award

"Louis' writing is unfailingly gorgeous, and his characters unforgettable. This is a collection filled with compassion and a gritty, sharp-edged beauty."—Michael Schaub, NPR.org, Best Books of 2022

"Louis's prose carries his poetic sensibility with a decided rhythm and resonant detail, and the narrators achingly convey their outsider status. The result is immersive and powerful."—Publishers Weekly

"To borrow Bojan Louis's own words, Sinking Bell doesn't shy away from the dim corners of life, the secrets we hide from our kids, or the darkness we make of ourselves. Made up of characters who in turns broke my heart and made me cackle with delight, the collection is held together by beautiful, loping sentences that double back, surprise, ask to be read aloud. You're going to want to take your time with this one, and then you're going to want to press it into the hands of all your best people."—Kelli Jo Ford

"In the pages of Sinking Bell you'll find stories about departures taken or anticipated, stories about unease and unknowability, stories about the labor and substance of life, stories about stories themselves, all told vividly and viscerally, with a loamy, textured lyricism. Bojan Louis's debut in fiction never flinches or relents, so it makes for an indelible reading experience."—Jamel Brinkley

"The narratives in Sinking Bell, Bojan Louis's first fiction collection, are driven by the same kinetic, visceral language that gave his American Book Award winning debut poetry collection, Currents, its raw lyricism. No matter the genre, Louis's voice and vision draw power from their foundation in Diné culture. Even when that culture is not the primary subject, its presence creates a complex, central interplay in these stories, set as they are in an often violent, dog-eat-dog, post-capitalist America."—Stuart Dybek

"This book rules. I get a whiff of Denis Johnson's Jesus' Son in Sinking Bell. There's desperation and magic here and work and love and loneliness, and other inexpressible shapes moving underneath it all. Like each of us, Bojan Louis's characters are making their way either toward light or away from it. That it's impossible to be totally sure which one is the real magic in these stories, and why they'll stay with you long after reading."—Ander Monson

"Devastating yet hopeful stories about characters toiling to find refuge in the world."—Kirkus Reviews

"Louis's fiction resists history's submersion of Diné culture and confronts the nightmare into which history has cast the Diné."—Ian Ross Singleton, Los Angeles Review of Books