Just Us: An American Conversation (Hardcover)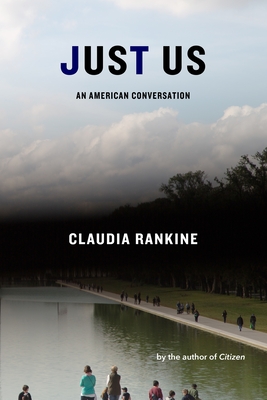 $30.00
Usually Ships in 2-7 Days
Staff Reviews
---
We are so lucky to be alive at the same time as Claudia Rankine. I will read anything she writes and any book she blurbs. — From Misian's Picks
We are so lucky to be alive at the same time as Claudia Rankine. I will read anything she writes and any book she blurbs. This book along with her many others proves she is canon. JUST US, like her previous book Citizen, combines prose and photographs to make the reader bare witness to system injustice and white supremacy. A deeply affecting book. You cannot read Claudia Rankine and not be changed. - MISIAN, Room Bookseller — From Seasons Readings 2020 - Staff Picks!
Misian's pick! — From Our Favorite Reads of 2020
November 2020 Indie Next List
---
"Claudia Rankine really steps up the moment with this book. She invites readers to join a conversation that helps us think through uncomfortable parts of American history. The poems, essays, and images in the book allow for a conversation that opens your eyes and enriches your understanding of our time. Readers will be excited to pick up this wildly creative and powerful writing on race, difference, and politics in America."
— Alyson Turner, Source Booksellers, Detroit, MI
Description
---
FINALIST FOR THE 2021 ANDREW CARNEGIE MEDAL FOR EXCELLENCE IN NONFICTION

Claudia Rankine's Citizen changed the conversation—Just Us urges all of us into it

As everyday white supremacy becomes increasingly vocalized with no clear answers at hand, how best might we approach one another? Claudia Rankine, without telling us what to do, urges us to begin the discussions that might open pathways through this divisive and stuck moment in American history.

Just Us is an invitation to discover what it takes to stay in the room together, even and especially in breaching the silence, guilt, and violence that follow direct addresses of whiteness. Rankine's questions disrupt the false comfort of our culture's liminal and private spaces—the airport, the theater, the dinner party, the voting booth—where neutrality and politeness live on the surface of differing commitments, beliefs, and prejudices as our public and private lives intersect.

This brilliant arrangement of essays, poems, and images includes the voices and rebuttals of others: white men in first class responding to, and with, their white male privilege; a friend's explanation of her infuriating behavior at a play; and women confronting the political currency of dying their hair blond, all running alongside fact-checked notes and commentary that complements Rankine's own text, complicating notions of authority and who gets the last word.

Sometimes wry, often vulnerable, and always prescient, Just Us is Rankine's most intimate work, less interested in being right than in being true, being together.
About the Author
---
Claudia Rankine is the author of Citizen: An American Lyric and four previous books, including Don't Let Me Be Lonely: An American Lyric. Her work has appeared recently in the Guardian, the New York Times Book Review, the New York Times Magazine, and the Washington Post. She is a chancellor of the Academy of American Poets, the winner of the 2014 Jackson Poetry Prize, and a contributing editor of Poets & Writers. She received a MacArthur Fellowship in 2016. Rankine is the Frederick Iseman Professor of Poetry at Yale University.
Praise For…
---
NAMED A BEST BOOK OF 2020 BY THE NEW YORK TIMES, TIME MAGAZINE, NPR, ESQUIRE, THE GUARDIAN, O MAGAZINE, MS. MAGAZINE, STAR TRIBUNE, ST. LOUIS POST DISPATCH, CHRISTIAN SCIENCE MONITOR, KIRKUS REVIEWS, AND PUBLISHERS WEEKLY

"Rankine has emerged as one of America's foremost scholars on racial justice. . . . [To] a past we have avoided reckoning, Rankine will be helping America understand itself, one conversation at a time."—The Associated Press

"[Just Us is] a brilliant and timely examination of whiteness in America. This consciousness-raising, bravura combination of personal essays, poems, photographs, and cultural commentary works on so many levels and is a skyscraper in the literature on racism."—Christian Science Monitor

"Claudia Rankine has once again written a book that feels both timely and timeless, and an essential part of the conversations all Americans are having (or should be having) right now."—Refinery29

"There is a persistence in Rankine to agitate the evasiveness, or complacency, that has metastasized in the minds of her acquaintances. . . . Her willingness to force other people out of normalcy with frankness, and her inclination toward untethering herself from her economic status and cultural capital through traumatic dialogues, seems unparalleled. . . . Comfort, when so much in our vantage is in shambles, seems a luxury that should collectively be left on the shelf until civilization has worked hard enough to afford it. Which makes a strong case for Just Us as not only the most comprehensive articulation of the racial imaginary Rankine has ever put on paper, but as her magnum opus."—4Columns

"[Claudia Rankine] is one of our foremost thinkers, and Just Us is essential reading in 2020 and beyond."—BookPage

"In this genre-defying work, [Claudia Rankine], as she did so effectively in Citizen, combines poetry, essay, visuals, scholarship, analysis, invective, and argument into a passionate and persuasive case about many of the complex mechanics of race in this country. . . . Rankine writes with disarming intimacy and searing honesty. . . . A work that should move, challenge, and transform every reader who encounters it."—Kirkus Reviews, starred review

"An incisive, anguished, and very frank call for Americans of all races to cultivate their 'empathetic imagination' in order to build a better future."—Publishers Weekly, starred review

"Rankine presents another arresting blend of essays and images, perfectly attuned to this long-overdue moment of racial reckoning. . . . [Analyzing] the overwhelming power of whiteness in everyday interaction . . . Rankine once again opens a literary window into the Black experience, for those willing to look in."—Booklist, starred review

"Rankine seeks to find a space beyond white defensiveness and guilt where meaningful discussions can take place. . . . A must-read to add to the conversation on racism, antiracism, and white fragility."—Library Journal, starred review

"This brilliant and multi-layered work by Claudia Rankine is a call, a bid, an insistent, rightly impatient demand for a public conversation on whiteness. . . . A rare honesty toward a potential affirmation. Anyone who turns away from this bold and vital invitation to get to work would be a damn fool."—Judith Butler

"In my work, well-meaning white people consistently ask me how to recognize racism. Yet we might ask, 'How have we managed not to know?' The information is everywhere, if we care to listen. Indeed, here is illuminating testimony that is both poetic and well beyond the abstract. With clarity and grace, Claudia Rankine delivers a gut punch to white denial. Just Us is stunning work—audacious, revelatory, devastating."—Robin DiAngelo

"With Just Us, Claudia Rankine offers further proof that she is one of our essential thinkers about race, difference, politics, and the United States of America. Written with humility and humor, criticism and compassion, Just Us asks difficult questions and begins necessary conversations."—Viet Thanh Nguyen

"Fiercely intimate, rigorous. . . . [Just Us] lets all of us in on the conversations—with others and the self—that are necessary for survival, which, attested by this all-too-human account, is rooted in the vigilance that racially imagined people must maintain for their very being."—Nuar Alsadir

"In Just Us, Claudia Rankine continues her remarkable and brilliant interrogation of the language, culture, and history that have shaped America, forging through poems, essays, and documents a literary archive that is utterly original and desperately needed."—Dinaw Mengestu