The Che Guevara Reader: Writings on Politics & Revolution (The Che Guevara Library) (Paperback)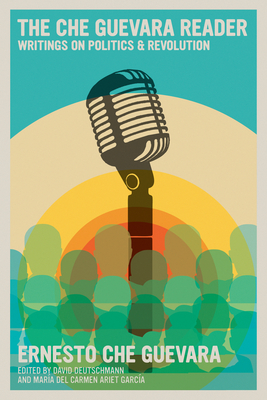 $22.95
This item is out of stock with our warehouse. Some recently published books may be in stock @ Room. Email to check.
Description
---
Selected writings—speeches, essays, and letters—by one of the most widely known guerilla fighters, political theorists, and organizers, Che Guevara.

Widely revered as a true revolutionary, this collection of writings from Ernesto Che Guevara highlight his principled politics and praxis in the fight against capitalism and US imperialism. Incisive speeches, critical essays, and personal letters not only serve as a primer of the Cuban revolutionary movement, but also analyze the importance of practicing international solidarity, reflect on violent resistance, and explicate the dangerous failures of capitalism.

Accompanied by an extensive bibliography of Guevara's writing, a timeline of his life, and an all-encompassing glossary of individuals, organizations, and publications, the Che Guevara Reader provides insights into the historical, political, and cultural context for Guevara's radicalization. From some of his most famous speeches such as "Create Two, Three, Many Vietnams" to intimate, personal letters addressed to comrades around the world and his own children, this book extends Che's legacy and paints a stunning picture of a revolutionary struggling for a better world.
About the Author
---
ERNESTO GUEVARA DE LA SERNA was born in Rosario, Argentina, on June 14, 1928. While studying for a medical degree in Buenos Aires, he took a trip with his friend Alberto Granado on an old Norton motorcycle through all of Latin America, the basis for The Motorcycle Diaries. During his travels he witnessed the Bolivian revolution in 1953; and, in Guatemala in 1954, the overthrow of the democratically elected government of Jacobo Arbenz by US-backed forces. Forced to leave Guatemala, he went to Mexico City, where he linked up with exiled Cuban revolutionaries and met Fidel Castro in 1955. Che joined their expedition to Cuba, where the revolutionary war began in the Sierra Maestra mountains. At first Che was the troop doctor, and later became Rebel Army commander in July 1957. Following the rebels' victory on January 1, 1959, he was a key leader of the new revolutionary government and also of the political organization that in 1965 became the Communist Party of Cuba.

Praise For…
---
"If I were to recommend one of Che's books to readers who want an introduction to his bold ideas, dialectical thinking and his concise yet expressive style, I would recommend this one."—Jonah Raskin, Counterpunch