Love Across Borders: Passports, Papers, and Romance in a Divided World (Hardcover)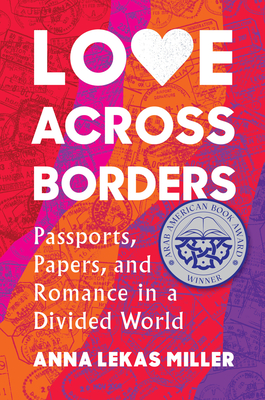 $27.00

In stock with our warehouse--usually ships within 1-7 days. May or may not be in stock at Room.
Description
---
We are told that love conquers all, but what happens when you don't have the right passport?
 
With deep empathy, rigorous reporting, and the irresistible perspective of a true romantic, journalist Anna Lekas Miller tells the stories of couples around the world who must confront Kafkaesque immigration systems to be together—as she did to be with her partner.
 
Written with suspenseful storytelling worthy of the greatest love stories, Love Across Borders takes readers across contentious frontiers around the world, from Turkey to Iraq, Syria to Greece, Mexico to the United States, to reveal the widespread prejudicial laws intent on dividing people. Lekas Miller tells her own story of meeting and falling deeply in love with Salem Rizk, in Istanbul, where they were both reporting on the Syrian War. But when Turkey started cracking down on refugees, Salem, who is Syrian, wasn't allowed to stay in the country, nor could he safely return to Syria. He was a man without a country. So Lekas Miller had to decide her next move: she has an American passport, but deep personal ties to the Middle East, and knew it was unfair that Salem couldn't travel freely the way she could. More important, she loved him.
 
Over the next few years, as they navigated Salem's asylum claims, the United States' Muslim ban, and labyrinthine regulations in several different countries, Lekas Miller learned about—and bonded with—other people whose spouses had been deported, who found love in refugee camps, whose differing immigration statuses caused complicated power dynamics and financial hardship or threatened the wellbeing of their children. Here, offering a uniquely diverse, international, and intimate look at the global immigration crisis, she interweaves these rich, complicated love stories with a fascinating look at the history of passports (a surprisingly recent institution), the legacy of colonialism, and the discriminatory laws shaping how people move through the world every day.
 
Ultimately, she builds a powerful, moving case for a borderless society—one where a border patrol agent can't keep anyone's love story from its happy ending
About the Author
---
Anna Lekas Miller is a writer and journalist who covers stories of the ways that conflict and migration shape the lives of people around the world. She has reported from Palestine, Lebanon, Turkey, and Iraq, covering the Israeli occupation, the Syrian civil war and exodus to Europe, and the rise and fall of the Islamic State. Since moving to London, she has turned her attention to the rise of the far right in Europe and the United States, investigating immigration systems, white supremacist ideology, and the ways that people are standing up to them. She is most interested in stories of love and healing in an unpredictable and unstable world.

Her journalism and essays have appeared in Vanity Fair, the Intercept, CNN, the New Humanitarian, and Newlines Magazine. She tweets, Instagrams, and TikToks under the handle @annalekasmiller and lives in London with her husband, Salem.
 

 
Praise For…
---
"Love Across Borders is a powerful and unforgettable testament to the humanity and love that prevail in spite of borders. This is a book that will make you weep, rage, and fight for the change our world deserves."—Qian Julie Wang, author of the New York Times bestseller, Beautiful Country

"Anna Lekas Miller has achieved so much in this beautiful collection of love stories. Each account, including her own, is woven like a delicate tapestry, one that reveals the cruelty of borders and the resilience of the human spirit. With humor and historical context, Lekas Miller shows us that despite the inhumane divisions created by those in power, human beings will always find a way to love one another."—Erika L. Sánchez, author of the New York Times bestseller, I Am Not Your Perfect Mexican Daughter and Crying in the Bathroom

"A heartbreaking, beautifully written, and deeply personal exploration of the bloody reality of the border regime, and defiant triumph of love."—Molly Crabapple, author of Drawing Blood and Brothers of the Gun (with Marwan Hisham)

"This eye-opening account brings personal stories to the forefront of the international refugee crisis… Sometimes heartwarming, sometimes excruciating, these engrossing accounts are now documented by a woman who speaks for thousands of star-crossed lovers."—Booklist, *starred review*

"A beautiful, heartrending—and heartwarming—tour of the world through the eyes of its migrants that also deepened my understanding of the world of passports and visas, border walls and armed guards in which we all live today. It is a book about love in all its messy, imperfect realities, made all the richer by the author's willingness to be vulnerable about her own love story. And most of all, it is a book designed to change minds and hearts. What are we fighting for, after all, if not a world where love can be truly free? I'm looking forward to much more from this vibrant and necessary writer."—Sarah Jaffe, author of Work Won't Love You Back and Necessary Trouble

"Anyone interested in moving beyond the headlines to see the human face of immigration will find this book about the structural inequalities of cross-border relationships timely, thoughtful, and provocative. Eye-opening reading that ably blends the personal and the universal."
 —Kirkus Reviews

"This is an impassioned nonfiction narrative that interweaves the author's personal and professional lives to relate the hostile environment of a global migration crisis"—Library Journal

"Love Across Borders has the emotional rollercoaster of a romance novel, but all the love stories (and the heartache within) are all too real. An almost guaranteed tearjerker that will leave you more knowledgable—and more frustrated—than when you first picked it up."
 —Jezebel

"Michelle Dowd's youthful voice makes it easy for listeners to be transported… confidence and self-assurance fill her narration as she breaks free from the rigidity and abuse that have controlled her life"—Audiofile Magazine