Enduring Freedom (Hardcover)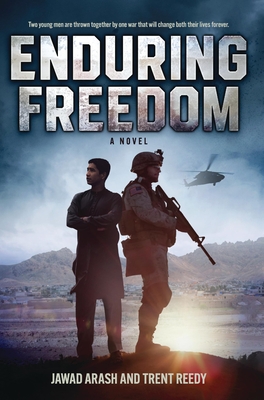 $18.95

In stock with our warehouse--usually ships within 1-7 days. May or may not be in stock at Room.
Description
---
September 11, 2001
Two young men on opposite sides of the world
One war that will change their lives forever
Baheer, a studious Afghan teen, sees his family's life turned upside down when they lose their livelihood as war rocks the country.  
A world away, Joe, a young American army private, has to put aside his dreams of becoming a journalist when he's shipped out to Afghanistan.  
When Joe's unit arrives in Baheer's town, Baheer is wary of the Americans, but sees an opportunity: Not only can he practice his English with the soldiers, his family can make money delivering their supplies. At first, Joe doesn't trust Baheer, or any of the locals, but Baheer keeps showing up. As Joe and Baheer get to know each other, to see each other as individuals, they realize they have a lot more in common than they ever could have realized. But can they get past the deep differences in their lives and beliefs to become true friends and allies?  
Enduring Freedom
is a moving and enlightening novel about how ignorance can tear us apart and how education and understanding can bring us back together.
"Through Baheer, readers ages 12 and older will gain some understanding of life under the Taliban; of the concussive shock of 9/11 as felt in Central Asia; of Afghans' varied responses to the American invasion; and most of all the transformative promise of schooling. Through Joe, an aspiring journalist, readers experience not only the throb of post-9/11 patriotism but also the tedium, camaraderie and sudden terrors of soldiery in a war zone." —The Wall Street Journal
About the Author
---
Trent Reedy served as a combat engineer in the Iowa Army National Guard from 1999 to 2005, including a year's tour of duty in Afghanistan, where he befriended Jawad Arash. Based upon his experiences there, he wrote his debut middle-grade novel, Words in the Dust, which won the Christopher Medal and was chosen for Al Roker's Book Club for Kids on the Today show. His novels Stealing Air, If You're Reading This, and the Divided We Fall trilogy were Junior Library Guild selections. Trent also writes a weekly military life column for the Washington Examiner. He lives with his family outside Spokane, Washington.

Jawad Arash's home country of Afghanistan has been at war throughout his entire life. Nevertheless, Jawad remained optimistic for his future. Despite challenges imposed by war, he developed a love for learning and wanted to help build a new and better Afghanistan. Enduring Freedom is his debut novel.
Praise For…
---
"Through Baheer, readers ages 12 and older will gain some understanding of life under the Taliban; of the concussive shock of 9/11 as felt in Central Asia; of Afghans' varied responses to the American invasion; and most of all the transformative promise of schooling. Through Joe, an aspiring journalist, readers experience not only the throb of post-9/11 patriotism but also the tedium, camaraderie and sudden terrors of soldiery in a war zone."
—The Wall Street Journal

"This thoughtful portrait of friendship and the human side of war, based on the authors' true story, proves engrossing."
—Publishers Weekly

"A touching tale of understanding and friendship . . . The message of education as a vehicle for progress and dismantling hatred is one that will strike a chord with readers."
— Kirkus Reviews

* "A story of friendship, hardship, acceptance, and courage."
— Library Journal, starred review

"Writing in alternating points of view, the co-authors draw on their real-life friendship (further explored in appended authors' notes) to tell a touching story about differences and finding common ground . . . The story effectively focuses on those most affected by violent conflict and the characters' shift in perspective from prejudice to openness. Joe's reading of war literature leads him to realize the common hardships people face in a war zone, while Baheer's engagement with Persian classics, Afghan poetry, and Quranic verses help him understand the humanity of all people. Through their individual reflections, they come to understand that education is the key to rebuilding a society, and they work together toward this goal."
—Horn Book Magazine

"The engaging story moves back and forth between Joe and Baheer, offering readers an intimate look at the Afghan people and their lives in a country perpetually at war. Coauthors Reedy and Arash are especially good at character development and setting. This book, with its dual perspectives, will be especially good for classroom use and discussion."
— Booklist