A Year of Positive Thinking: Daily Inspiration, Wisdom, and Courage (A Year of Daily Reflections) (Paperback)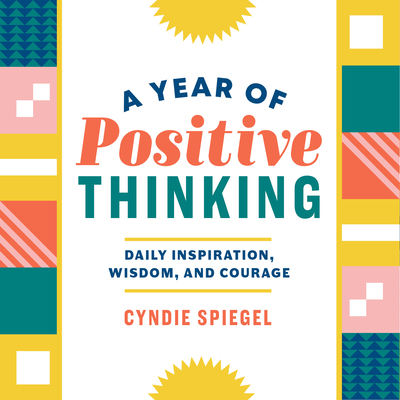 $17.99

In stock with our warehouse--usually ships within 1-7 days. May or may not be in stock at Room.
Description
---
Embrace positivity daily for a new outlook on life.
Are you looking to live each day with more positivity and motivation? No matter the time of year, this book will help transform your mindset and inspire positive thinking with daily doses of digestible quotes, mantras, and prompts.
What sets this book apart from other daily affirmations and self-help books:
PROVEN PSYCHOLOGY: This book draws on effective and proven principles of positive psychology, neuroscience, and transformational coaching to bring positive change to your life.
365 DAYS OF REAL-LIFE POSITIVITY: Each day presents another chance to choose positivity. Every page of this book is labeled by date and delivers frank, inspirational lessons and reflections to help you grow your self-respect, kindness, and love.
INCLUSIVE CONTENT: Designed to appeal to all kinds of adult readers, this standout among inspirational books is secular and non-gender specific.
Start living with positivity and purpose using this collection of 365 thought-provoking quotes and affirmations.
About the Author
---
CYNDIE SPIEGEL is an outspoken speaker, community builder, and business coach on a mission to empower others to refine their mindsets for good, and help them realize their wildest (most ridiculously inspired) dreams. Her unique blend of straight talk, relatability, sass, and inspiration has made her a sought-after speaker for brands, conferences, and events. She lives in Brooklyn, NY, with her photographer husband and two overly particular cats.
Praise For…
---
"I deeply love Cyndie's message and style—she's taught me to say yes more, to say no more, and to actually ask for what I want. Her new book, A Year of Positive Thinking, provides a lovely, inspiring, and always spot-on daily reminder that you are enough. Get ready to say, 'Oh, I really needed to hear this today'...365 times."—Rachel Miller, Senior Lifestyle Editor at BuzzFeed and author of Dot Journaling: A Practical Guide

"A Year of Positive Thinking is a beautiful, accessible book for engineering positivity. Cyndie's voice is powerful because of its honesty and earnestness—she's walked where I've walked, she's stood where I stand. Full of inspiring wisdom and encouraging call to action, this book is more than simple comfort on a rough day—it's a way to change your entire way of thinking."—Meera Lee Patel, author of MADE OUT OF STARS: A Journal for Self-Realization

"As a clinician who practices Cognitive Behavioral methods, I am excited for Cyndie's readers to experience this smart, digestible introduction to the powerful impact our thinking has on how we feel and behave. Cyndie introduces a smorgasbord of invaluable insights that are sure to resonate with every reader. I recommend diving into A Year of Positive Thinking for all those looking to live more intentionally in 2019 and beyond."—Dr. Lauren Hazzouri, licensed psychologist