Come Closer (Paperback)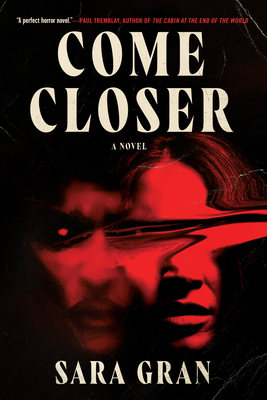 $17.00
This item is out of stock with our warehouse. Some recently published books may be in stock @ Room. Email to check.
Description
---
Demonic possession or psychic break? One of Esquire's Top 50 horror novels of all time delves deep into the terrifying consequences of losing control.

"A perfect horror novel."—Paul Tremblay, author of The Cabin at the End of the World

A recurrent, unidentifiable noise in her apartment. A memo to her boss that's replaced by obscene insults. Amanda—a successful architect in a happy marriage—finds her life going off kilter by degrees. She starts smoking again, and one night for no reason, without even the knowledge that she's doing it, she burns her husband with a cigarette. At night she dreams of a beautiful woman with pointed teeth on the shore of a blood-red sea.

The new voice in Amanda's head, the one that tells her to steal things and talk to strange men in bars, is strange and frightening, and Amanda struggles to wrest back control of her life. A book on demon possession suggests that the figure on the shore could be the demon Naamah, known to scholars of the Kabbalah as the second wife of Adam, who stole into his dreams and tricked him into fathering her child. Whatever the case, as the violence of her erratic behavior increases, Amanda knows that she must act to put her life right, or see it destroyed.

This new edition of the cult classic features a brand new post-script by the author and a "Are You Haunted?" questionnaire.
About the Author
---
Sara Gran is the author of the novels Saturn's Return to New York, Dope, and Claire DeWitt and the City of the Dead, the first in a detective series. Her work has been published in over a dozen countries and in nearly twice as many magazines, newspapers, and literary journals. Born and raised in Brooklyn, she now lives in California.
Praise For…
---
Praise for Come Closer

NPR 100 Favorite Horror Stories
Esquire 50 Best Horror Books of All Time
Men's Health 53 Best Horror Novels of All Time
Book Riot 50 Scariest Books of All Time

"Sara Gran's Come Closer will have you questioning Amanda's reality and mind along with your own, and it will scare the pants off you. It is a perfect horror novel."
—Paul Tremblay, author of The Cabin at the End of the World

"What begins as a sly fable about frustrated desire evolves into a genuinely scary novel about possession and insanity. Hypnotic, disturbing, and written with such unerring confidence you believe every word, Come Closer is one of the most precise and graceful pieces of fiction I've read in a long time."
—Bret Easton Ellis

"Stunning."
―Los Angeles Review of Books

"A dark, seductive cocktail of a thriller, with a splash of black humour and a twist of horror. Come Closer combines the taut suspense of Patricia Highsmith and the acerbic, surreal wit of Ottessa Moshfegh."
—Francine Toon, author of Pine

"To me, Sara Gran did for Demonic possession what Henry James did for the Ghost story when she wrote Come Closer. I don't know of a better novel that deals with the subject, making it not just a classic but THE contemporary classic of the genre."
—David Slade, director of Hannibal and Thirty Days of Night

"I read Come Closer on the train, in a snowstorm, on a cold December night. It was the right atmosphere for this perfectly noirish tale of madness and love. Author Sara Gran writes with scalpel-like clarity, expertly blending tones to create a new kind of psychological thriller. I loved this book. Days after finishing it, it has not left my mind."
—George Pelecanos, author of Right as Rain
 
"'What we think is impossible happens all the time.' So claims the beguiling narrator of Come Closer, and after reading this spare and menacing tale, the reader has to agree. Sara Gran has created a sly, satisfying (fast!) novel of one young woman possessed not only by a demon but also by her own secret desires."
—Stewart O'Nan, author of Ocean State

"I could not stop until I reached the very last line."
—Sarah Weinman, author of The Real Lolita

"Deeply creepy."
—The Irish Times (A Book of the Year)

"I have been haunted by Come Closer since it first came out more than 15 years ago, and often recommend it to horror fans, so it is great to see it back in print. A short, wickedly sharp tale, elegantly constructed and genuinely disturbing, this take on demonic possession as experienced by a young, happily married, successful female architect in New York still feels contemporary and relevant today. But beware: it is truly nightmarish, and could take up residence in your head."
—The Guardian

"Harpies, doppelgangers, possessive spirits: once confined to horror writing, these supernatural entities prowl the pages of literary fiction with increasing confidence. In the past couple of years, novelists such as Daisy Johnson, Megan Hunter and Helen Phillips have harnessed them to probe female passions and frustrations, but Sara Gran beat them to it in 2003. Newly reissued, her lean, seductively mean novel Come Closer [is] magnetically disturbing."
―The Observer

"Ideal for an evening's reading, with a kick that will stay with the reader for days afterward."
—Dallas Morning News
 
"Short, sharp and deliciously, remorselessly nasty; I read it in one compulsive gulp while trying to ignore the slow chills creeping up and down my spine."
—Lucy Caldwell, author of These Days

"Sara Gran has written an intelligent horror story, a literary creepshow that works its magic subtly and well. It's a marvel of restraint and taste, and still it worms its way under your skin and stays there."
—Darin Strauss, author of Half a Life
 
"Sara Gran's Come Closer ought to carry a warning to readers. It's impossible to begin this intense, clever, beautifully written novel without turning every page. A wonderful accomplishment."
—Margot Livesey, author of The Boy in the Field
 
"Come Closer is sharp and strange and, best of all, at the moment of truth it doesn't flinch from its own mad logic."
—Sam Lipsyte, author of No One Left to Come Looking for You

"Come Closer is riveting, alarming, and deceptively complex. Sara Gran will make you terrified of the little voice lurking inside your own mind that sometimes says, Go ahead, do it."
—Madeline Stevens, author of Devotion

"The Yellow Wallpaper meets Rosemary's Baby in a slim, wonderfully eerie novel."
—Kirkus Reviews
 
"Polished and unsettling."
—The Cleveland Plain Dealer

"It gave us the creeps."
—Arizona Republic

"About as twisted as they come."
—CrimeReads