The Tale of a Wall: A Memoir (Paperback)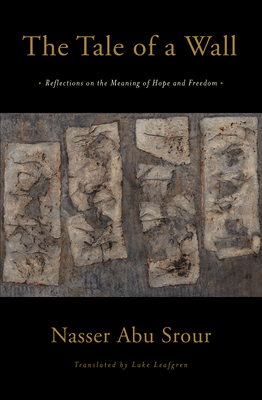 Description
---
This passionate autobiography—at once history lesson, prison memoir, metaphysical inquiry, love story, and cry for justice—provides insights into the Israeli occupation and the struggle of the Palestinian people.

One of more than 5,000 Palestinians currently held in Israeli prisons, Nasser Abu Srour serves a life sentence with no possibility of parole. From the Nakba to the disastrous consequences of the Oslo Accords, he explains with great acumen how the Intifada of the Stones (1987–1993) ultimately provided the only option for young Palestinians in refugee camps to infuse meaning into their lives, especially as they faced a constant threat of humiliation and manipulation by Israeli intelligence. This uprising leads to Abu Srour's incarceration, after he was forced to confess, under torture, to the killing of a Shin Bet officer who recruited his cousin as an informant.
Within his cell, Abu Srour turns the Wall that has deprived him of his freedom into his interlocutor and the source of stability that allows him to survive a chaotic, hopeless existence. This incredible literary device—and survival strategy—becomes particularly heartbreaking when falling in love causes Abu Srour to lose his grip on the Wall. Only by writing the story of his imprisonment and the story of his love does Abu Srour find his way back. In doing so, he has created a work of art that transcends the pain he endures while shining a glaring light on the ongoing tragedy of the Palestinian situation.
About the Author
---
Nasser Abu Srour was arrested in 1993, accused of being an accomplice to the murder of an Israeli intelligence officer, and sentenced to life in prison. While incarcerated, Abu Srour completed the final semester of a bachelor's degree in English from Bethlehem University, and obtained a master's degree in political science from Al-Quds University. The Tale of a Wall is his first book to appear in English, and translations are forthcoming from Gallimard, Feltrinelli, and Galaxia Gutenberg, among others.

Luke Leafgren is an Assistant Dean of Harvard College. He has translated seven novels from Arabic, including Muhsin Al-Ramli's The President's Gardens, for which he received the 2018 Saif Ghobash Banipal Prize for Arabic Literary Translation.
Praise For…
---
"Nasser Abu Srour doesn't allow his long incarceration in an Israeli prison to break his spirt. He turns the wall of his cell that is intended to confine him into his path to freedom, and in the process, out of the darkness of his cell produces a luminous memoir." —Raja Shehadeh, author of We Could Have Been Friends, My Father and I: A Palestinian Memoir

"A unique, lyrical exploration of what his inhumane confinement has taught him about resistance, love, lies, forgiveness, and the complicated struggle for liberation of his fractured, occupied land. Rather than allow the many walls surrounding him from childhood to break him down, he has turned them into darkly luminous companions on a journey into the heart of cruelty and redemption." —Ariel Dorfman, author of The Suicide Museum

"An extraordinary memoir. Abu Srour is not just a witness of his personal life but a witness to one of the major tragedies of our times." —Amara Lakhous, author of Clash of Civilizations Over an Elevator in Piazza Vittorio
 
"In contemplating the meaning of freedom, and the prison walls enclosing him, Nasser Abu Srour has produced a richly emotional and affecting memoir. His poetic prose, lyrically translated by Luke Leafgren, ranges far beyond physical confines to evoke steadfastness and universal human dignity, through the intellectual curiosity of a writer 'born into a family on the margins, living in a marginal place filled with marginal people.' Its resonance, and Abu Srour's vision, are far from marginal." —Matthew Teller, author of Nine Quarters of Jerusalem