Sharks Get Cancer, Mole Rats Don't: How Animals Could Hold the Key to Unlocking Cancer Immunity in Humans (Paperback)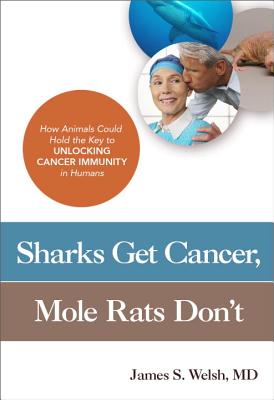 $19.00
Usually Ships in 1-5 Days
Description
---
This fresh and fascinating exploration of new directions in cancer research focuses on the important role of the immune system in combatting this dread disease. Integrating clues from the animal kingdom, the veterinary clinic, extraordinary human cases, and even embryology, the author a cancer physician, biologist, and physicist creates a novel and compelling account of tumor immunology and the promises of immunotherapy.
As the author explains, animals offer us many tantalizing clues about the nature of cancer in humans. Tasmanian devils are on the verge of extinction due to a virulent form of contagious cancer; soft-shelled clams on the East coast of North America are vanishing due to another epidemic of contagious cancer; dogs also contract a contagious cancer but they spontaneously overcome it; and a type of mouse and the homely mole rat are not susceptible to the disease at all.
In humans, there are rare instances of spontaneous cures of advanced cancers induced by radiation. An uncommon form of dwarfism called Laron syndrome confers total cancer immunity on the people who inherit the condition. And recent research suggests that cancer has stolen the secret that shields the embryo against hostile attacks from the mother's immune system.
The author makes a convincing case that what all of these diverse examples have in common is the immune system and its ability or inability to respond to malignancies. He concludes with a review of the exciting research on the human immune system and the development of new treatments that are inducing the immune system to combat and conquer even the deadliest cancers.
About the Author
---
James S. Welsh, MD, FACRO is professor, director of clinical and translational research, and medical director of radiation oncology at the Stritch School of Medicine, Loyola University - Chicago and chief of radiation oncology at the Edwards Hines Jr VA Hospital. He also practices and conducts research in proton beam therapy at the Northwestern Medicine Chicago Proton Therapy Center. He has led research in boron neutron capture therapy and fast neutron therapy at Fermilab when he was the neutron therapy physician at the NIU Institute for Neutron Therapy at Fermilab.

Dr. Welsh has authored over 100 scientific articles and is a sought-after lecturer. Board certified in radiation oncology and neuro oncology, he has worked in the Oncology Department at The Johns Hopkins Hospital, the Human Oncology and Medical Physics Departments at the University of Wisconsin, and was full professor of neurosurgery and radiology at LSU-Shreveport.

He is the current president of the American College of Radiation Oncology and is on the board of directors for the Society for Brain Mapping and Therapeutics. He recently concluded eight years of service on the Advisory Committee for the Medical Uses of Isotopes, which advises the United States Nuclear Regulatory Commission on medical issues.