Queer Conception: The Complete Fertility Guide for Queer and Trans Parents-to-Be (Paperback)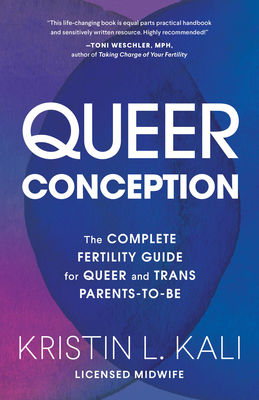 $24.95

In stock with our warehouse--usually ships within 1-7 days. May or may not be in stock at Room.
Description
---
Making a baby through love and science? Get the guidance you need to navigate the conception process with confidence and ease.

"[A] a well-researched, deeply comprehensive (and readable!) guide to building a queer family in a way that works for you." 
—Emily Oster, author of Expecting Better

The only evidence-based, up-to-date fertility guide for queer people from an experienced health care provider, this is also the first to be transgender inclusive and body-positive. 
 
Here, queer prospective parents will find sound advice for navigating complex medical, social and financial decisions. Trusted fertility midwife Kristin Kali walks you through the baby-making process: creating a timeline; fertile health for every body; preconception tests; identifying ovulation; donors, gamete banks, and surrogacy; methods of insemination including IUI, IVF and reciprocal IVF; navigating early pregnancy; and preparing for infant feeding, including lactation induction for trans women and nongestational parents.
 
This book is for all LGBTQ+ readers interested in creating family through pregnancy: anyone who identifies as queer, lesbians, gay men, bisexual people, trans and nonbinary people, couples, single parents by choice, poly families, and coparents. It's an antidote to a culture and medical system that all too often centers heterosexual couples experiencing infertility while overlooking our unique needs. It also contains sidebars with guidance for reproductive healthcare professionals.

"This life-changing book is equal parts practical handbook and sensitively written resource. Highly recommended!"
—Toni Weschler, MPH, author of Taking Charge of Your Fertility
About the Author
---
KRISTIN LIAM KALI, Licensed Midwife, (they/them) is the owner of MAIA Midwifery & Fertility Services, PLLC. They have supported thousands of LGBTQ+ parents through fertility and preconception care, in-home insemination, prenatal care, childbirth education, delivery in homes and birth centers, postpartum care, lactation management and parenting groups. As a public speaker, educator and consultant, they have trained hundreds of midwives and childbirth professionals to serve the queer and trans community with humility, respect and the widespread use of gender inclusive language.

Praise For…
---
"Packed with answers to questions you probably never even thought to ask, this life-changing book is equal parts practical handbook and sensitively written resource. Highly recommended!"
—Toni Weschler, MPH, author of Taking Charge of Your Fertility

"This book is a well-researched, deeply comprehensive (and readable!) guide to building a queer family in a way that works for you." 
—Emily Oster, author of Expecting Better

"In Queer Conception, fertility midwife Kristin Kali helps prospective parents navigate a heteronormative system . . . The book helps readers identify potential donors and surrogates, describes methods of insemination, and prepares new parents for infant feeding, which may include lactation induction for trans women and nongestational parents."
—Publishers Weekly

"Kali distills the knowledge they've gained over 25 years of experience as a health care provider and advocate for queer and trans parents into a book filled with detailed information about fertility, family planning and parenthood...Fertility and family planning is often catered to straight, cisgender, monogamous couples; Kali illustrates that queer and trans parents and parents-to-be have different needs and perspectives that need to be taken into account."
—The SeattleTimes

"Queer Conception decodes the science of baby making with a body-positive, gender-affirming lens.  A pivotal resource delivered with heart. Highly recommended!"
—Lindo Bacon, PhD, author of Health at Every Size and Radical Belonging

"A must-read for queer and trans parents-to-be, their providers, their extended families, allies, and anyone who wants to understand the new terrain in which it takes a sperm, an egg, a uterus, and a rainbow of genders and sexualities to make a baby."
—Diane Ehrensaft, PhD, director of mental health at UCSF Child and Adolescent Gender Center and author of Mommies, Daddies, Donors, Surrogates