Double Exposure (Hardcover)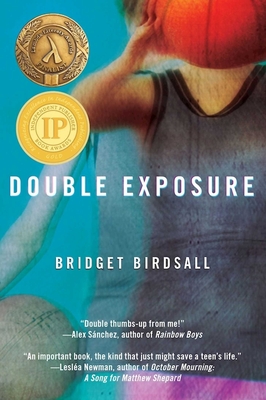 $16.95
This item is out of stock with our warehouse. Some recently published books may be in stock @ Room. Email to check.
Description
---
Nominated for the Lambda Literary Award and the Foreword Reviews' INDIE Book of the Year

First place winner of the Wisconsin Council of Writers' Tofte/Wright Children's Literature Award

Fifteen-year-old Alyx Atlas was raised as a boy, yet she knows something others don't. She's a girl. And after her dad dies, it becomes painfully obvious that she must prove it now—to herself and to the world. Born with ambiguous genitalia, Alyx has always felt a little different. But it's after she sustains a terrible beating behind a 7-Eleven that she and her mother pack up their belongings and move from California to Milwaukee, Wisconsin, to start a new life—and Alyx begins over again, this time as a girl.

Alyx quickly makes new friends, earns a spot on the girls' varsity basketball team, and for the first time in her life feels like she fits in. That is, until her prowess on the court proves too much for the jealous, hotheaded Pepper Pitmani, who sets out to uncover Alyx's secret. A dangerous game of Truth or Dare exposes Alyx's difference and will disqualify her entire basketball team from competing in the state championships unless Alyx can prove, once and for all, that she is a girl. But will Alyx find the courage to stand up for the truth of her personhood, or will she do what she's always done—run away? Whatever she decides, she knows there's much more at stake than a championship win.

A stunning debut young adult novel from Bridget Birdsall, Double Exposure brings to light complex gender issues, teenage insecurities, and overcoming all obstacles.

Sky Pony Press, with our Good Books, Racehorse and Arcade imprints, is proud to publish a broad range of books for young readers—picture books for small children, chapter books, books for middle grade readers, and novels for young adults. Our list includes bestsellers for children who love to play Minecraft; stories told with LEGO bricks; books that teach lessons about tolerance, patience, and the environment, and much more. While not every title we publish becomes a New York Times bestseller or a national bestseller, we are committed to books on subjects that are sometimes overlooked and to authors whose work might not otherwise find a home.
About the Author
---
Bridget Birdsall is an author, artist, educator, and inspirational speaker. Despite dyslexic challenges, Bridget made a midlife decision to pursue her dream of writing books that touch hearts, especially those of young people. She earned her MFA in writing for children and young adults from Vermont College and now teaches creative, contemplative, and business writing skills throughout the Midwest. She is the recipient of numerous awards and fellowships and is known as a writer willing to tackle tough topics. Birdsall lives in Madison, Wisconsin.
Praise For…
---
"Poignant. . . this is an important addition to the small field of books featuring an intersex character." —School Library Journal

"Informative without being either dry or sensationalistic . . . . This necessary story is warmly told." —Kirkus Reviews

"Birdsall doesn't shy away from the complexity of Alyx's condition . . . creating an unconventional character with whom teens can relate [sic]." —Booklist

"Birdsall demonstrates a remarkable talent for original storytelling . . . . As thoughtful and thought-provoking as it is solidly entertaining from beginning to end, Double Exposure is very highly recommended." —Midwest Book Review/Reviewer's Bookwatch

"[Double Exposure] is as valuable for its portrayal of the effects of bullying as for its insights into the experience of being intersex. It belongs in any collection that serves teen readers." —ALA's Gay Lesbian Bisexual Transgender Round Table/GLBT Reviews

"Heart wrenching . . . . the powerful coming-of-age novel reflects the triumph of acceptance and equality with the help of unconditional love and support. A simply stunning yet stimulating work of art." —Planet London

"A slam dunk" —Wisconsin Gazette

"A novel that takes you into the heart of a character and makes you root for her until the very end." —Teaching Tolerance

"Double Exposure is a poignant, gut-punch of a novel, timely, and full of flashes of dark wit . . . Highly recommended for LGBTQ teens and allies alike. I adored this book!" —Jenn Crowell, author of Necessary Madness

"Goes above and beyond the ordinary . . . . recommended for anyone who enjoys well-written, timely YA." —Out in Print

"Double Exposure gives the reader double what most novels do, portraying characters that are both bold and tender, raising questions that make you both think and feel deeply, and transporting you into a story that both entertains and inspires. Double thumbs up from me!" —Alex Sanchez, author of Rainbow Boys and Boyfriends with Girlfriends

"Told in clear, straightforward prose, this riveting story of Alyx, and the gauntlet she has to run in order to discover who she truly is, shines a brilliant light on the truth that we are all queer in some way. All of us. In Double Exposure, Bridget Birdsall has given us a story that is courageous, intense and full of heart. It's a score from the outside, and everyone who reads it wins!" —Kathi Appelt, author of the Newberry Honor winner The Underneath, Keeper, and The True Blue Scouts of Sugar Man Swamp

"Double Exposure is an important book, the kind that just might save a teen's life. Alyx captured my heart on page one and never let it go. All Alyx wants is to be herself. Which is what any teen wants. And all teens deserve. Bridget Birdsall has done a wonderful job of capturing a teen's longing, anguish, courage, and determination. Read this book. It will break your heart—and heal it." —Lesléa Newman, author of October Mourning: A song for Matthew Shepard

"This powerful coming of age story is refreshingly unique, yet wonderfully universal in its portrayal of what it means to be different. With both realism and sensitivity, Bridget Birdsall depicts the tremendous courage required for Alyx to be true to herself. Double Exposure is a triumphant novel about friendship and self-acceptance." —Yvonne Ventresca, author of Pandemic

"Double Exposure is an important story, poignant and compelling. And it's a great basketball story as well, rising out of a deep knowledge of the sport. Bridget Birdsall is a writer to watch!" —Marion Dane Bauer, Newbery Honor-winning author of On My Honor

"Intersexuality got the highbrow treatment in Jeffrey Eugenides' Middlesex, but when it comes to educating the masses, some may want a newer, well-written teenage story — such as . . . Bridget Birdsall's Double Exposure."
—OZY

"Poignant. . . this is an important addition to the small field of books featuring an intersex character." —School Library Journal

"Informative without being either dry or sensationalistic . . . . This necessary story is warmly told." —Kirkus Reviews

"Birdsall doesn't shy away from the complexity of Alyx's condition . . . creating an unconventional character with whom teens can relate [sic]." —Booklist

"Birdsall demonstrates a remarkable talent for original storytelling . . . . As thoughtful and thought-provoking as it is solidly entertaining from beginning to end, Double Exposure is very highly recommended." —Midwest Book Review/Reviewer's Bookwatch

"[Double Exposure] is as valuable for its portrayal of the effects of bullying as for its insights into the experience of being intersex. It belongs in any collection that serves teen readers." —ALA's Gay Lesbian Bisexual Transgender Round Table/GLBT Reviews

"Heart wrenching . . . . the powerful coming-of-age novel reflects the triumph of acceptance and equality with the help of unconditional love and support. A simply stunning yet stimulating work of art." —Planet London

"A slam dunk" —Wisconsin Gazette

"A novel that takes you into the heart of a character and makes you root for her until the very end." —Teaching Tolerance

"Double Exposure is a poignant, gut-punch of a novel, timely, and full of flashes of dark wit . . . Highly recommended for LGBTQ teens and allies alike. I adored this book!" —Jenn Crowell, author of Necessary Madness

"Goes above and beyond the ordinary . . . . recommended for anyone who enjoys well-written, timely YA." —Out in Print

"Double Exposure gives the reader double what most novels do, portraying characters that are both bold and tender, raising questions that make you both think and feel deeply, and transporting you into a story that both entertains and inspires. Double thumbs up from me!" —Alex Sanchez, author of Rainbow Boys and Boyfriends with Girlfriends

"Told in clear, straightforward prose, this riveting story of Alyx, and the gauntlet she has to run in order to discover who she truly is, shines a brilliant light on the truth that we are all queer in some way. All of us. In Double Exposure, Bridget Birdsall has given us a story that is courageous, intense and full of heart. It's a score from the outside, and everyone who reads it wins!" —Kathi Appelt, author of the Newberry Honor winner The Underneath, Keeper, and The True Blue Scouts of Sugar Man Swamp

"Double Exposure is an important book, the kind that just might save a teen's life. Alyx captured my heart on page one and never let it go. All Alyx wants is to be herself. Which is what any teen wants. And all teens deserve. Bridget Birdsall has done a wonderful job of capturing a teen's longing, anguish, courage, and determination. Read this book. It will break your heart—and heal it." —Lesléa Newman, author of October Mourning: A song for Matthew Shepard

"This powerful coming of age story is refreshingly unique, yet wonderfully universal in its portrayal of what it means to be different. With both realism and sensitivity, Bridget Birdsall depicts the tremendous courage required for Alyx to be true to herself. Double Exposure is a triumphant novel about friendship and self-acceptance." —Yvonne Ventresca, author of Pandemic

"Double Exposure is an important story, poignant and compelling. And it's a great basketball story as well, rising out of a deep knowledge of the sport. Bridget Birdsall is a writer to watch!" —Marion Dane Bauer, Newbery Honor-winning author of On My Honor

"Intersexuality got the highbrow treatment in Jeffrey Eugenides' Middlesex, but when it comes to educating the masses, some may want a newer, well-written teenage story — such as . . . Bridget Birdsall's Double Exposure."
—OZY