Postcolonial Astrology: Reading the Planets through Capital, Power, and Labor (Paperback)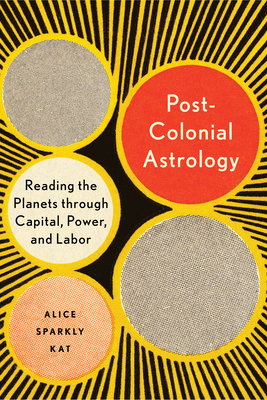 $17.95
This item is out of stock with our warehouse. Some recently published books may be in stock @ Room. Email to check.
Staff Reviews
---
Alice Sparkly Kat has written something incredibly eye opening. For me, a long-time astrology enthusiast and a self-proclaimed lover of the signs, I always felt I knew what I was generally talking about. Sparkly Kat blew it all out of the water. This book is well researched, thoughtfully sewn together with current times, and offers new ways for us to look at our lives and identities through the magical thinking of astrology as it is reflected in capitalism, power, and labor. I thought I knew so much, but now knowing the etymology of each planet, including the sun and the moon, gives me a greater appreciation for the tool that is astrology. It also helps me feel more empowered to use astrology as a practice while considering it's relationship with White Supremacy and the harm of marginalized groups and cultures. If you're at the point of astrology where you generally know what the signs, elements, planets, and houses represent, then this book will open up another level of thinking for you and allow you to think more critically about identity and future building via astrological practice. — From Alej's Picks - ☼ Essays / Nonfiction ☼
Description
---
Tapping into the political power of magic and astrology for social, community, and personal transformation.

In a cross-cultural approach to understanding astrology as a magical language, Alice Sparkly Kat unmasks the political power of astrology, showing how it can be channeled as a force for collective healing and liberation.

Too often, magic and astrology are divorced from their potency and cultural contexts: co-opted by neoliberalism, used as a force of oppression, or distilled beyond recognition into applications that belie their individual and collective power. By looking at the symbolic and etymological histories of the sun, moon, Saturn, Venus, Mercury, Mars, and Jupiter, we can trace and understand the politics of magic--and challenge our own practices, interrogate our truths, and reshape our institutions to build better frameworks for communities of care.

Fearless, radical, and fresh, Sparkly Kat's Postcolonial Astrology ushers in a new wave of astrology revival, refusing to apologize for its magickism and connecting its power to the spirituality and politics we need now. Intersectional, inclusive, and geared towards queer and POC communities, it uses our historical and collective constructs of the planets, sun, and moon to re-chart our subconscious history, redefine the body in the world, and assert our politics of the personal, in astrology and all things.
About the Author
---
Alice Sparkly Kat is a queer, PoC astrologer. They use astrology to re-chart a history of the subconscious, redefine the body in world, and reimagine history as collective memory. Their astrological work has inhabited MoMA, Philadelphia Museum of Art, Brooklyn Museum, and Hauser and Wirth Gallery. They're friendly, located in Brooklyn, and available for readings in person or by phone at www.alicesparklykat.com. Follow them on Instagram or Twitter at @alicesparklykat for astrology content and weird memes.
Praise For…
---
"The author...helps readers understand [astrology] as a magical, political, and intersectional language with a rich history that extends beyond Western ideologies." 
—Publishers Weekly 


"[Alice Sparkly Kat's] analysis strikes that rare balance of being richly contextualized and accessibly written, making this 'history and toolkit' an essential addition to any queer astrology lover's library."
—Logo, NewNowNext

"Alice Sparkly Kat asks us one of the most important questions that can be asked of any profession: Can we make astrology responsible for its impact thus far and into the future? It's a necessary interrogation and the only way to truly show how much we love and care for this ancient art and much-needed practice."
—Chani Nicholas, author of You Were Born For This

"As a student of astrology for over a decade, I am incredibly moved by the audaciousness, the humor, and the sublime realness of this book. It's a book that strikes a challenge: How do we move forward dislodging ourselves from the cruel machinations of white supremacy and colonization? How do we claim ourselves for our bright, collective future? I saw myself in this book, and it was a bold, timely
reckoning!"
—Faria Róisín, author of Like a Bird


"Many people do astrology, and some of them know from where the tradition emerged. But very few rigorously consider how and why the language of astrology has developed in relation to power. With a critical eye and expansive research, Alice Sparkly Kat examines the historical significance of astrology's symbols to trace an alternative genealogy of modern Western astrology. This important work is crucial to a discipline as steeped in tradition as astrology is; without a deep consideration of history, how can we create space for new astrologies to root and take hold?" —Banu Guler, Founder & CEO of Co – Star
 

"Alice Sparkly Kat's Postcolonial Astrology does something immensely paramount: its sweeping analyses rip off the togas worn by Western astrology's planetary gods that Rome appropriated from the Greeks. Sparkly Kat shows how their loosely woven fabric drapes nothing but White privilege created at the expense of stolen land and the labor of people of color for millennia. In their book, there is no lapsing into trying to track astrology's depths through the jungles of Jung's putative collective unconscious. No awestruck adoration of Western astrology's masquerade of itself as a path toward transcendence, a map for the evolution of consciousness, or a gateway for freedom from the tortures of our supposed ids, egos, or superegos. Instead, Sparkly Kat stays rooted in a body of critical theory and postmodern analysis to expose Western astrology, as an "anachronistic archive" and a myth-making machine more for racism and maintaining Whiteness at the expense of the poor and people of color. Yet, Sparkly Kat doesn't commission the reader to discard all Western astrology's borrowed and tattered notions. They instead direct us to look at the shredded heap of its motley meanings as just one important story that can indeed be told differently. We can learn to connect the dots of astrology's fabled constellations of motley meanings, assembled with blood and burglary, in ways that create a canopy of heaven that includes all peoples of Earth and leaves us whole and restored." —Samuel F. Reynolds, MA, CAP ISAR, NCGR-III