The Whale Child (Paperback)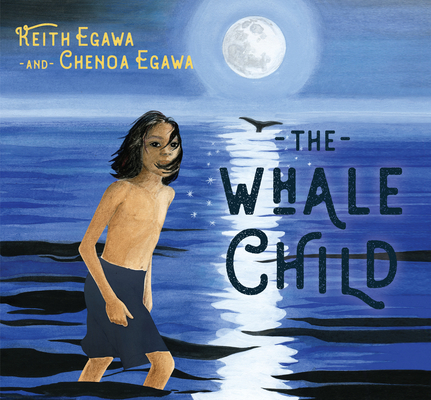 $19.95
This item is out of stock with our warehouse. Some recently published books may be in stock @ Room. Email to check.
Description
---
An inspiring middle-grade chapter book that introduces young readers to the environmental challenges facing the planet through the eyes of Coast Salish characters and authors.

"You have family on land as you do in the sea. . . being a caretaker of the earth begins with taking care of the water that all life depends on."

Shiny is a whale child. One day his mother teaches him about the harm facing the world's oceans because of human carelessness. Shiny agrees to be turned into a boy by the ocean's water spirit so he can visit the land and alert people to these dangers. He meets Alex, a young Coast Salish girl who learns from Shiny that the living spirit of water exists in everything--glaciers, rivers, oceans, rain, plants, and all living creatures. Together the two travel the earth, confronting the realities of a planet threatened by an uncertain future. Inspired by Shiny's hope, humor, and wisdom, Alex makes the promise to become a teacher for future generations. She realizes that the timeless Indigenous value of environmental stewardship is needed now more than ever and that we must all stand up on behalf of Mother Earth.

Written and illustrated by Indigenous authors Keith Egawa and Chenoa Egawa, The Whale Child introduces children ages 7 to 12 to existing environmental issues with a message of hope, education, sharing, and action. Ideal for middle-grade readers who are beginning to read chapter books on their own, this book also includes resources for students and teachers to facilitate learning about Pacific Northwest Indigenous cultures and the environment.
About the Author
---
KEITH T. A. EGAWA is a novelist who focuses on both adult and children's literature. He is a Washington native and a member of the Lummi Indian Nation. Egawa's extensive experience in the field of child welfare has provided him with both inspiration and insight into his subject matter.

CHENOA T. Y. EGAWA is Coast Salish of the Lummi and S'Klallam Nations of Washington State. She is a medicine woman, singer, writer, illustrator, photographer, and teacher dedicated to bringing healing to our Mother Earth and to people of all origins. She is a voice to bring Native wisdom and perspectives to the world when these teachings are particularly poignant reminders of our shared responsibility to live with respect for ourselves, one another, and all that gives us life.
Praise For…
---
"Vivid illustrations juxtapose the beauty and scale of the natural world that the children explore. . . . This necessary read decolonizes the Western construction of climate change."
—Kirkus Reviews (starred review)

"The sacred art of Indigenous storytelling is beautifully upheld in The Whale Child. It teaches us of our relationship with the living Earth, about balance and respect and the responsibilities that we hold toward one another across species. The story guides the reader using traditional Coast Salish lore in a contemporary narrative, masterfully weaving the timeless wisdom of Indigenous ways of knowing into our current reality. The whale child's journey is taken for us all. We must bear witness."
—Sherri Mitchell Weh'na Ha'mu Kwasset, author of Sacred Instructions

"Those of us with hands and feet (alas) who self-identify as members of the Earth's Whale Tribe now have a new wonderful, strong, kind, and happy tale to represent us, and with which to remember our connection to All Things by. The Whale Child provides that 'smart step in the right direction' we all need."
—Paul Owen Lewis, author and illustrator of Storm Boy and Frog Girl 

"The Whale Child is an environmental fable for our time. This is the story of Alex, daughter of a mixed Coast Salish and Polynesian family and Shiny, a whale turned briefly human to impart the wisdom of the ocean to humanity. The book is at turns educational, poignant, warm, sad, and funny. Chenoa and Keith Egawa's delicate watercolor illustrations evoke the chill water, crisp air, and glowing sunshine of the beautiful Salish Sea. . . . The Whale Child is an important book for children, parents, and teachers to read and ponder."
—Bryn Barnard, author of The New Ocean
 
"A long time ago, we didn't have to be taught that everything has a spirit, a life force, a memory, a moment that all things came into existence. . . . Brother and sister Keith and Chenoa Egawa bring us back to those teachings in their story The Whale Child. . . . We learn how to quiet our minds to hear the message that mother earth holds the cure, the answers, and the way to heal her if we just take a moment to reconnect and hear what she has to say."
—Janine Gibbons, Haida artist and children's book illustrator for Baby Raven Reads series, Sealaska Heritage Institute

"For the Coast Salish people, the nonhuman living world is not filled with resources to be abused and extracted—rather, these are our relatives that carry our original instructions. . . . Promoting these concepts and the necessary fusion of Indigenous ecological perspectives with western understandings is the fully realized mantra narrated for us in this marvelous story. The critical insights of our responsibilities and the truth of reciprocity—particularly with water, the first medicine—are woven into each page. Through playful adventure, the essence of ancient instructions emerges in the context of a modern world."
—Valerie Segrest, Muckleshoot, author, Native food systems strategist and wild medicine expert

"A treasure of a book—educational, inspirational, and beautiful!"
—Keely Parrack, author of Morning, Sunshine!