We Are the Ones We Have Been Waiting for: Inner Light in a Time of Darkness (Paperback)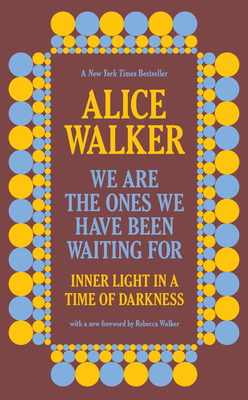 $16.99

In stock with our warehouse--usually ships within 1-7 days. May or may not be in stock at Room.
Staff Reviews
---
This book reminds me of the quote by Ralph Waldo Emerson: "The mind, once stretched by a new idea, never returns to its original dimensions." I feel as though my mind has been stretched so greatly by all of Alice Walker's wisdom, her meditations, and her observations on the world around us. I revisited my own meanings I attributed to Cuba, the death of Martin Luther King Jr., birth, and how Whiteness impacts all who are touched by it. I sat with Walker's words on practice. Now is not the time to go with out a practice. Whether that be religious, meditative, movement, writing, walking, dancing, singing, reading, or anything worth doing to live toward a healing existence. Even though this book was written for and in spirit of Black peoples everywhere, I felt that we could all learn more about ourselves through the lens of caring that Alice Walker says is innate to Black peoples everywhere. I felt a hope for the Indigenous ancestors within my blood line when Alice spoke to the hardships experienced by both Native people and Black people at the hands of White supremacy. I felt humbled and grateful for my teachers throughout my life. I felt ready for something new. Inspired would be an easy word to use, but Alice Walker has given the world a gift with her writing. A gift that we should all be grateful to have received. I will be referencing her words for the rest of my life. — From Alej's Picks - ☼ Essays / Nonfiction ☼
Description
---
The New York Times bestselling book that both galvanizes progressives for action and is a balm--from the Pulitzer Prize-winning author
"A light in darkness, Alice Walker awakens us to our own power as only she can. . . . Once again, Walker has exceeded our expectations." --The Atlanta Journal-Constitution
When the United States recently exploded with unprecedented demonstrations challenging racial violence and hatred, Alice Walker's New York Times bestselling We Are the Ones We Have Been Waiting For was one of the books to which people turned for inspiration and solace. Called "stunningly insightful" and "a book that will inspire hope" by Publishers Weekly, this work by the author of The Color Purple is a clarion call to activism--spiritual ruminations with a progressive political edge, that offer a moment of care and solace.
Walker encourages readers to take faith in the fact that, despite our daunting predicaments, we are uniquely prepared to create positive change. Drawing on Walker's spiritual grounding and her progressive political convictions, the book offers a cornucopia of the Pulitzer Prize winner's writings and speeches on advocacy, struggle, and hope. Each chapter concludes with a recommended meditation to teach patience, compassion, and forgiveness.
Walker's clear vision and calm meditative voice--truly "a light in darkness"--has struck a deep chord among a large and devoted readership.
About the Author
---
Alice Walker is one of the most prolific and important writers of our time, known for her literary fiction, including the Pulitzer Prize-winning The Color Purple (which was also a major Broadway play), her many volumes of poetry, and her powerful nonfiction collections. She is the author of Possessing the Secret of Joy, The World Has Changed (edited by Rudolph P. Byrd), The Chicken Chronicles, The World Will Follow Joy, and The Cushion in the Road, all published by The New Press. Some of her other bestselling books include In Search of Our Mothers' Gardens, The Temple of My Familiar, By the Light of My Father's Smile, and The Way Forward Is with a Broken Heart. Her advocacy on behalf of the dispossessed has spanned the globe. She lives in Northern California.