Sing a Rhythm, Dance a Blues: Education for the Liberation of Black and Brown Girls (Hardcover)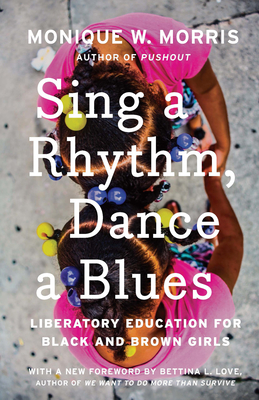 $23.99

In stock with our warehouse--usually ships within 1-7 days. May or may not be in stock at Room.
Description
---
A groundbreaking and visionary call to action on educating and supporting girls of color, from the highly acclaimed author of Pushout
Monique Morris is a personal shero of mine and a respected expert in this space.
--Ayanna Pressley, U.S. congresswoman and the first woman of color elected to Boston's city council
Wise Black women have known for centuries that the blues have been a platform for truth-telling, an underground musical railroad to survival, and an essential form of resistance, healing, and learning. In her highly anticipated follow-up to the widely acclaimed Pushout, now a core text for teachers and principals on the criminalization of Black girls in schools, leading advocate Monique W. Morris invokes the spirit of the blues to articulate a radically healing and empowering pedagogy for Black and Brown girls.
A clarion call for educators, parents, and anyone who has a stake in a better tomorrow to transform schools into places where learning and collective healing can flourish, these pages journey from Oakland to Ohio and from New York to Iowa City and beyond. Morris describes with candor and love what it looks like to meet the complex needs of girls on the margins. In doing so she offers a collection of gems from educators who are attuned to the patterns of pain and struggle, and who show how adults working in schools can harness their wisdom to partner with students and help the girls they teach find value and joy in learning.
Sing a Rhythm, Dance a Blues reimagines what education might look like if schools placed the thriving of Black and Brown girls at their center. Morris brings together research and real life in this chorus of interviews, case studies, and the testimonies of remarkable people who work successfully with girls of color. The result is this radiant manifesto--a guide to moving away from punishment, trauma, and discrimination toward safety, justice, and genuine community in our schools.
In the tradition of For White Folks Who Teach in the Hood and Other People's Children, Morris's new book is a clarion call--for educators, parents, students, and anyone who has a stake in a better tomorrow--to transform schools into places where learning and collective healing can flourish.
Book cover photograph by Brittsense/brittsense.com.
About the Author
---
Monique W. Morris is President/CEO of Grantmakers for Girls of Color and co-founder of the National Black Women's Justice Institute. She is an award-winning author, filmmaker, and social justice scholar-advocate. Her books include Pushout, Black Stats, and Sing a Rhythm, Dance a Blues (all from The New Press). She lives in Brooklyn, New York.