Pride and Prejudice and Kitties: A Cat-Lover's Romp through Jane Austen's Classic (Hardcover)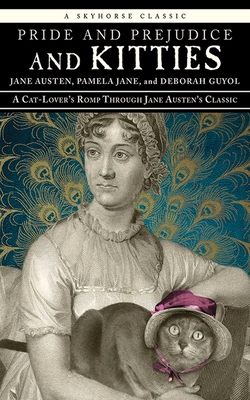 $16.95
Email or call for price.
Description
---
What if Jane Austen's Pride and Prejudice was told from a cat's point of view? On the heels of smash hits like Pride and Prejudice and Zombies and I Can Has Cheezburger, this hilarious mash-up by children's author Pamela Jane and photographer Deborah Guyol spins a fresh, quirky take on two of the things we just can't get enough of: classic cats and classic Jane.

Pride and Prejudice and Kitties juxtaposes wacky photos of cats with the wicked humor of Jane Austen, and it's just in time for the 200-year anniversary of the publication of the original Pride and Prejudice. Soulful Mr. Darcy gazes at Elizabeth Bennet in fascination; hysterical Mrs. Bennet yowls that no one understands her; somnolent Mr. Hurst passes out on the sofa after dinner; arrogant Lady Catherine hisses at Elizabeth. Each photo includes a hilarious caption that goes along with the text of Pride and Prejudice, told from a feline perspective.

Pride and Prejudice and Kitties is a book for cat-lovers, Austen-lovers, and people who love to laugh—in other words, just about everyone. The adorable meets the absurd!
About the Author
---
Jane Austen was an English novelist whose works of romantic fiction, set among the gentry, earned her a place as one of the most widely read writers in English literature. Austen lived in Hampshire, England.

Pamela Jane coaches writers, conducts writing workshops nationally and internationally, and has written twenty-seven children's books, including Little Goblins Ten and Noelle of the Nutcracker. Pamela also contributes to the popular blog womensmemoirs.com. She resides in Philadelphia, Pennsylvania.

Deborah Guyol has studied photography with Larry Sultan, Judy Dater, and Ellen Brooks, and her photographs have appeared in print and web publications. She is also a lawyer and coauthor of The Complete Guide to Contract Lawyering. She edits a legal publication, teaches creative writing, and conducts writing workshops. She resides in Portland, Oregon.