Flora (Hardcover)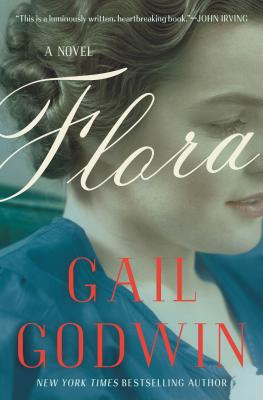 May 2013 Indie Next List
---
"In the last months of America's war with Japan, ten year old Helen is left in the care of a relative from Alabama one summer while her father leaves to work on a secret government project. A polio scare soon quarantines the two women at home, unable to escape each other. Finn, a former mental patient who delivers food to the house, soon becomes the object of attention for both women. The trouble, as Helen sees it, is that she is the most mature female in the house, and feels she is the one in control, until tragedy strikes on a deserted road one evening and she discovers the truth. Anyone curious as to why Gail Godwin has been honored with so many awards only needs to read this book to learn why. A clever, heart-felt, and often funny tale of learning to accept the ups and downs that life throws our way. Highly recommended."
— Hunter Coleman, The Alabama Booksmith, Birmingham, AL
Description
---
Ten-year-old Helen and her summer guardian, Flora, are isolated together in Helen's decaying family house while her father is doing secret war work in Oak Ridge during the final months of World War II. At three Helen lost her mother and the beloved grandmother who raised her has just died. A fiercely imaginative child, Helen is desperate to keep her house intact with all its ghosts and stories. Flora, her late mother's twenty-two-year old first cousin, who cries at the drop of a hat, is ardently determined to do her best for Helen. Their relationship and its fallout, played against a backdrop of a lost America will haunt Helen for the rest of her life.
This darkly beautiful novel about a child and a caretaker in isolation evokes shades of The Turn of the Screw and also harks back to Godwin's memorable novel of growing up, The Finishing School. With its house on top of a mountain and a child who may be a bomb that will one day go off, Flora tells a story of love, regret, and the things we can't undo. It will stay with readers long after the last page is turned.
About the Author
---
Gail Godwin is a three-time National Book Award finalist and the bestselling author of twelve critically acclaimed novels, including A Mother and Two Daughters, The Good Husband, Father Melancholy's Daughter, and Evensong. She is also the author of The Making of a Writer: Journals, 1961--1963, the first of two volumes, edited by Rob Neufeld. She has received a Guggenheim Fellowship, National Endowment for the Arts grants for both fiction and libretto writing, and the Award in Literature from the American Academy of Arts and Letters. She lives in Woodstock, New York. Visit her website at www.gailgodwin.com.
Praise For…
---
"I've long thought of Gail Godwin as a present-day George Eliot — our keenest observer of lifelong, tragically unwitting decisions. 
     Helen's story, which she tells us when she is an older woman, is focused on the summer when she was a precocious ten-year-old.  Her mother is dead, and the "haunted little girl" has more recently lost her grandmother.  Flora (the first cousin of Helen's late mother) is looking after Helen for the summer.  Helen seems much smarter and more sophisticated than her unwanted, twenty-two-year-old companion from Alabama; Helen believes that Flora is the one who needs looking after.
    'Remorse is wired straight to the heart,' the older Helen tells us.  Gail Godwin's Flora is similarly wired — straight to the heart.  The events of Helen's haunted and most formative summer are perfectly plotted to unhinge her; what happens to Helen and Flora will make Helen the woman (and the writer) she becomes.  (Helen tells us that a collection of her stories is "about failed loves.")
     Flora is a novel as word-perfect and taut as an Alice Munro short story; like Munro, Godwin has flawlessly depicted the kind of fatalistic situation we can encounter in our youth — one that utterly robs us of our childhood and steers the course for our adult lives.
     This is a luminously written, heartbreaking book." —John Irving
"Flora is a beautiful examination of character and the far-reaching repercussions of our actions. Gail Godwin brings grace, honesty, and enormous intelligence to every page." —Ann Patchett
"Remorse may be the defining emotion for our narrator, Helen, but Godwin the writer has nothing to regret: Flora is an elegant little creeper of a story." —Maureen Corrigan, NPR's Fresh Air
"Godwin is repelled by the saccharine psychology of our age. In her finest books, including the three that have been finalists for the National Book Award, we confront spiritual matters in unusually hard terms.... [The narrator's] recollection of that tragic summer, turned over and over in her mind for years, is something between a search for understanding and a mournful confession. But finally it's a testament to the power of storytelling to bring solace when none other is possible." —The Washington Post
"With more than a dozen critically acclaimed novels to her name [Godwin] has been a unique voice in American literature for 40 years . . . . Dive into [Flora's] deep waters and witness a novelist at the peak of her powers swimming against the current of today's fiction."—The Times (London)
"Three-time National Book Award finalist Godwin creates memorable characters and conversations that carry us effortlessly toward a dark denouement, one that infuses the rest of Helen's life with profound appreciation for Flora's unguarded heart." —People
"Godwin is repelled by the saccharine psychology of our age. In her finest books, including the three that h"Flora is Godwin at her best, a compelling story about Helen's growth of consciousness told with fearless candor and the poignant wisdom of hindsight." —Boston Globe
"Gail Godwin's Flora sneaks up on you. The premise is small, but ambitiously so in the 'small, square, two inches of ivory' sense that Jane Austen used to describe her novelistic palette . . . . [Godwin]draws out the haunting Big Questions — loss, regret, family bonds — as the novel progresses, and then she leaves them, smartly and humbly, for the reader to answer." —Minneapolis Star Tribune
"
Flora
is a tightly focused, painful and eventually eruptive novel. Its ruminative, sometimes regretful narrator explores the complex heart of a child, showing us that it's not inevitably a sweet, gooey thing. It can be, as well, a shuddering volcanic island with but a single haunted inhabitant."
—Christian Science Monitor
"A superbly crafted, stunning novel by three-time National Book Award award finalist Godwin (
A Mother and Two Daughters
), this is an unforgettable, heartbreaking tale of disappointment, love, and tragedy. Highly recommended."
—Library Journal, starred review
"Godwin, celebrated for her literary finesse, presents a classic southern tale galvanic with decorous yet stabbing sarcasm and jolting tragedy.... Godwin's under-your-skin characters are perfectly realized, and the held-breath plot is consummately choreographed. But the wonder of this incisive novel of the endless repercussions of loss and remorse at the dawn of the atomic age is how subtly Godwin laces it with exquisite insights into secret family traumas, unspoken sexuality, class and racial divides, and the fallout of war while unveiling the incubating mind of a future writer."
—Booklist, starred review
"On the surface, Gail Godwin's luminous
Flora
is a quiet, simple novel about a few weeks spent in near isolation in the North Carolina mountains in the summer of 1945. Under the surface, however, run currents connecting the lives of the two main characters to those of dozens of others, present and especially past."
—Columbus Dispatch
"Unsparing yet compassionate; a fine addition to Godwin's long list of first-rate fiction bringing 19th-century richness of detail and characterization to the ambiguities of modern life." —Kirkus Reviews, starred review
"[A] stirring and wondrous novel from Godwin…. [her] thoughtful portrayal of their boredom, desires, and the eventual heartbreak of their summer underscores the impossible position of children, who are powerless against the world and yet inherit responsibility for its agonies."
—Publishers Weekly, starred review
"Readers are sure to be enchanted by this darkly hypnotic novel. Godwin has once again crafted a mesmerizing and magical tale, inhabited by characters whose pathos will linger long after Flora reaches its hauntingly eloquent final pages."
—BookPage, Best Books of 2013
"In a coming-of-age novel as exquisitely layered and metaphorical as a good peom, Godwin explores the long-term fallout from abandonment and betrayal, the persistence of remorse and the possibility of redemption."
—MORE magazine
"A haunting and intimate novel about loss and remorse, set against the final months of World War II." —Shelf Awareness