The Four Profound Weaves (Paperback)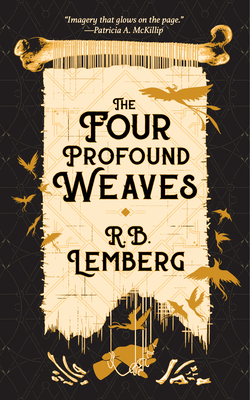 $14.95

In stock with our warehouse--usually ships within 1-7 days. May or may not be in stock at Room.
Description
---
Otherwise Award Honor List
World Fantasy Award Finalist
Nebula, Locus, and Ignyte Awards Finalist Two transgender elders must learn to weave from Death in order to defeat an evil ruler--in the debut full-length work set in R. B. Lemberg's award-winning queer fantasy Birdverse universe "The Four Profound Weaves is the anti-authoritarian, queer-mystical fairy tale we need right now."
--Annalee Newitz, author of The Future of Another Timeline "A beautiful, heartfelt story of change, family, identity, and courage."
--Library Journal, starred review The Surun' nomads do not speak of the master weaver, Benesret, who creates the cloth of bone for assassins in the Great Burri Desert. But aged Uiziya must find her aunt in order to learn the final weave, although the price for knowledge may be far too dear to pay. Among the Khana in the springflower city of Iyar, women travel in caravans to trade, while men remain in the inner quarter, as scholars. A nameless man struggles to embody Khana masculinity, after many years of performing the life of a woman, trader, wife, and grandmother. As his past catches up, the nameless man must choose between the life he dreamed of and Uiziya--while Uiziya must discover how to challenge the evil Ruler of Iyar, and to weave from deaths that matter. In this breathtaking debut set in R. B. Lemberg's beloved Birdverse, The Four Profound Weaves offers a timeless chronicle of claiming one's identity in a hostile world. About the Birdverse The Birdverse is the creation of fantasy author R. B. Lemberg. It is a complex, culturally diverse world, with a range of LGBTQIA characters and different family configurations. Named after its deity, Bird, Birdverse shorter works have been nominated for the Nebula, Hugo, Tiptree award, and Rhysling awards. The Four Profound Weaves is the first full-length work set in the Birdverse.
About the Author
---
R. B. Lemberg is a queer, bigender immigrant from Eastern Europe and Israel. Their stories and poems have appeared in Lightspeed Magazine's Queers Destroy Science Fiction!, Beneath Ceaseless Skies, Uncanny Magazine, Sisters of the Revolution: A Feminist Speculative Fiction Anthology, and many other venues. R.B.'s work has been a finalist for the Nebula, Crawford, and other awards. You can find more of their work on their Patreon (patreon.com/rblemberg) and a full bio at rblemberg.net