Dust Bowl Girls: The Inspiring Story of the Team That Barnstormed Its Way to Basketball Glory (Paperback)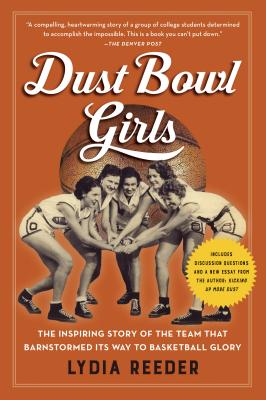 $16.95

In stock with our warehouse--usually ships within 1-7 days. May or may not be in stock at Room.
Description
---
"A thrilling, cinematic story. I loved every minute I spent with these bold, daring women whose remarkable journey is the stuff of American legend." —Karen Abbott, New York Times bestselling author of Liar, Temptress, Soldier, Spy

The Boys in the Boat meets A League of Their Own in this true story of a Depression-era championship women's team.

In the early 1930s, during the worst drought and financial depression in American history, Sam Babb began to dream. Like so many others, this charismatic Midwestern basketball coach wanted a reason to have hope. Traveling from farm to farm near the tiny Oklahoma college where he coached, Babb recruited talented, hardworking young women and offered them a chance at a better life: a free college education in exchange for playing on his basketball team, the Cardinals.  

Despite their fears of leaving home and the sacrifices that their families would face, the women joined the team. And as Babb coached the Cardinals, something extraordinary happened. These remarkable athletes found a passion for the game and a heartfelt loyalty to one another and their coach--and they began to win.

Combining exhilarating sports writing and exceptional storytelling, Dust Bowl Girls takes readers on the Cardinals' intense, improbable journey all the way to an epic showdown with the prevailing national champions, helmed by the legendary Babe Didrikson. Lydia Reeder captures a moment in history when female athletes faced intense scrutiny from influential figures in politics, education, and medicine who denounced women's sports as unhealthy and unladylike. At a time when a struggling nation was hungry for inspiration, this unlikely group of trailblazers achieved much more than a championship season.
About the Author
---
Lydia Ellen Reeder is the grandniece of Sam Babb, the extraordinary basketball coach featured in Dust Bowl Girls. She spent over two years conducting research for the book and also wrote and narrated a short film about the Cardinal basketball team, currently on view at the Oklahoma Historical Society website: youtu.be/fokmbnWmp50. As a former associate editor at Whole Life Times in Los Angeles and Delicious Magazine in Boulder, Colorado, Reeder has worked for many years as a copywriter and editor on behalf of corporate and organizational clients and most recently developed e-learning for a national nursing association. She lives in Denver with her husband and enjoys hiking in the mountains of Colorado. Dust Bowl Girls is her first book.
Praise For…
---
"Still, like other good sports histories, this one allows us to sit in the stands and watch a forgotten era when times were tough, odds were long, and underdogs rose to the occasion."
—Minneapolis Star-Tribune
 
"Fascinating." 
—Garden Gun.com

"Lydia Reeder has crafted a thrilling, cinematic story that seems destined for the big screen (please cast Saoirse Ronan as Doll Harris!). I loved every minute I spent with the bold, daring women of the Cardinals basketball team, whose remarkable journey to victory is the stuff of American legend."
—Karen Abbott, New York Times bestselling author of Liar, Temptress, Soldier, Spy 
"As she tells the amazing story of Babb and his underdog women's basketball team, Reeder also reveals the challenges facing serious female athletes during the 1920s and '30s, including the perceived risk of 'destroying their feminine image by invading a man's world.' Sports fans and general readers alike are sure to find the story both worthwhile and entertaining. A heartwarmingly inspirational tale."
—Kirkus Reviews

"Equal parts social history and sports legend come to life . . . Of special interest for students of women's studies and a strong contender for a film adaptation. With high appeal to sports fans and historians, this hidden gem of a story deserves a place in all public library collections."
—Library Journal, starred review 

"[A] surprising underdog story . . . They demonstrated the perseverance necessary to overcome the political and financial difficulties facing women in sports . . . Engaging storytelling."
—Publishers Weekly    

"Long before the influence of Title IX, a small college in Oklahoma, under the direction of a volunteer coach, was actively involved in recruiting women athletes. Based on extensive research and told with the talented storytelling ability of the author, Dust Bowl Girls is an important and enjoyable story."
—Virginia Peters, Ph.D., Former Coach of Women's Basketball and Director of Women's Intercollegiate Athletics at the University of Central Oklahoma, Edmond, Oklahoma
                      
"Dust Bowl Girls reads like something pulled from the imagination of a Hollywood dreamer. However, it is a true story of a group of Oklahoma Dust Bowl farm girls melded together by a one-legged coach into the finest basketball team of the Depression era. This epic sports story is the stuff of which legends are made." 
—W. Lynne Draper, Former President and CEO of the Jim Thorpe Association and the Oklahoma Sports Hall of Fame and recipient of the NFL Players Association National Award of Excellence
"Fun. Heartwarming. The story of a little-known but important moment in the history of basketball and women's sports in general."
—Erica Westly, author of Fastpitch: The Untold History of Softball and the Women Who Made the Game
                           
"For so long, women have been told they couldn't or shouldn't. In Dust Bowl Girls, Lydia Reeder tells the story of pioneers in women's sport who refused to listen. In a mix of history and sports thriller, Reeder unearths the story a rag tag group of women - some of them teenagers - who took the first steps to proving women could be athletes too. It's an inspiring story."
—Jen A. Miller, author of Running: A Love Story
"This is a multilayered history and a compelling story as the women who played basketball for OPC reveal much about their time and place. This one seemingly minor aspect of women's sport in rural Oklahoma is one worth knowing and worth reading."
—NY Journal of Books
"Destined to become a classic of sports literature."
—Patrick B. McGuigan, CapitolBeatOK 
"A compelling, heartwarming story of a group of college students determined to accomplish the impossible. This is a book you can't put down."
—The Denver Post
"If you are a sports fan and don't know the story of the Oklahoma Presbyterian College Cardinals from Durant, do yourself a favor and pick up the new book Dust Bowl Girls…(It's) another great sports story about an underdog whose triumphs inspired a community that badly needed a lift in the midst of hard economic times. I can't wait for the movie."
—The Oklahoman
"A vivid, compelling story."
—TheWichita Eagle