Tread Lightly: Form, Footwear, and the Quest for Injury-Free Running (Paperback)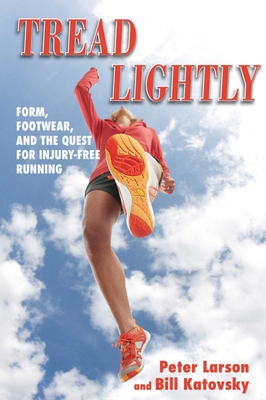 $16.95
This item is out of stock with our warehouse. Some recently published books may be in stock @ Room. Email to check.
Description
---
Praise for the work of Peter Larson 


"Larson presents a wealth of balanced info on the raging debate over proper running form and minimalist running shoes." —Erin Beresini, Outside Online 
"Peter Larson is both a scientist and a realist when it comes to running shoes, and that's a good combination."  —Amby Burfoot,
Peak Performance Blog
,
Runner's World
Humans evolved over the millennia to become one of the most exceptional distance-running species on Earth. So why are injuries so common? Are our shoes to blame, or is it a question of running form, training, or poor diet? In this groundbreaking book, Peter Larson and Bill Katovsky explore the reasons why runners experience injuries and offer potential solutions to the current epidemic of running-related injuries. Their findings, gleaned from research studies and conversations with leading footwear scientists, biomechanical experts, coaches, podiatrists, physical therapists, and competitive runners, are informative and enlightening. Topics include:
How modern runners differ from their ancestors
Why repetitive stress causes most injuries, and how runners can safely reduce their occurrence
The pros and cons of barefoot running
Why it's time to move beyond the pronation-control paradigm with running shoes
How certain running-form flaws might increase injury risk
How footwear has evolved over the past 10,000 years
The recreational runner
Why running shoes are not inherently evil
Tread Lightly 
is a highly readable, multifaceted investigation of running—past and present, with a hopeful look to the future.
About the Author
---
Bill Katovsky, founder of Tri-Athlete Magazine, has completed the Hawaii Ironman twice and is coauthor of Embedded: The Media at War in Iraq, which won Harvard's Goldsmith Book Prize; and editor of 1,001 Pearls of Runners' Wisdom: Advice and Inspiration for the Open Road, as well as co-founder of the Natural Running Center.