Surf Survival: The Surfer's Health Handbook (Paperback)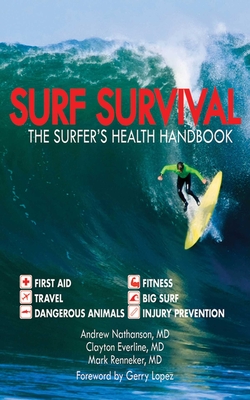 $14.95
Email or call for price.
Description
---
Whether you're a novice or an expert, Surf Survival is the handbook every surfer must have in his or her backpack, car, and beach house. With a slick waterproof cover and a handy travel-size format, Surf Survival explains everything from what to do about a jellyfish sting to what to eat for maximum energy out on the water. Also included are lists of common surfing hazards by region and wave science warm-ups, as well as detailed checklists of what to have on hand in case of an emergency. Be prepared for anything, whether you're surfing a crowded beach in California or a remote island in Indonesia. Written and compiled by three expert surfers and sports medicine doctors, this full-color guide is a handy must-have reference tool for every surfer.
About the Author
---
Andrew Nathanson, MD, FACEP, FAWM is a professor of emergency medicine at Brown University with expertise in Marine Medicine, and an avid surfer. He has chaired numerous conferences for the Wilderness Medical Society.

Clay Everline, MD, CSCS, FAWM is a lifelong surfer and fellowship-trained sports medicine doctor living on Oahu, Hawaii. He is a founder of The Waves of Health, a nonprofit medical outreach organization.

Mark Renneker, MD is an associate professor at UCSD in Family Medicine, founder of the Surfer's Medical Association, and a Maverick's regular. He has surfed on all seven continents, including Antarctica.