Mundo Cruel: Stories (Paperback)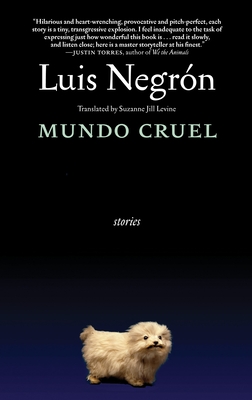 Description
---
Luis Negrón's debut collection reveals the intimate world of a small community in Puerto Rico joined together by its transgressive sexuality. The writing straddles the shifting line between pure, unadorned storytelling and satire, exploring the sometimes hilarious and sometimes heartbreaking nature of survival in a decidedly cruel world.
About the Author
---
Born in the city of Guayama, Puerto Rico in 1970, LUIS NEGRÓN is the co-editor of Los otros cuerpos, an anthology of queer writing from Puerto Rico and the Puerto Rican diaspora. The original Spanish language edition of Mundo Cruel, translated into the English and published by Seven Stories, was printed in Puerto Rico in 2010 by La Secta de Los Perros, then by Libros AC, and is now in its fourth printing.  

SUZANNE JILL LEVINE's many translations include the works of Guillermo Cabrera Infante and Manuel Puig. She is the editor of the Penguin Classics Jorge Luis Borges series and author of The Subversive Scribe: Translating Latin American Fiction. She is winner of the 2012 the PEN Center USA Literary Award for her translation of José Donoso's The Lizard's Tale.
Praise For…
---
"Slender but never slight, and often extremely funny, the nine stories in this debut collection offer insight into both gay life in Puerto Rico and the human condition in general ... the reader should be left both completely satisfied and wanting more." —Publishers Weekly

"Hilarious and heart-wrenching, provocative and pitch-perfect, each story is a tiny, transgressive explosion. I feel inadequate to the task of expressing just how wonderful this book is ... read it slowly, and listen close; here is a master storyteller at his finest." —Justin Torres, author of We the Animals

"Sharp and distinct voices guide the darkly witty stories in Luis Negron's debut short story collection, Mundo Cruel. Negron breaks open the chaotic lives of queens and lovers revolving in and around Santurce, Puerto Rico, through stories that resemble monologues driven by each character's strong personalities." —Los Angeles Review of Books

"Negrón has a knack for portraying the insight and pathos that arise when old-school romantic, wounded souls collide." —Out Magazine

"Luis Negrón is a very gifted storyteller, and one who is not afraid to steer straight into shameful and hurtful memories at top speed, confessing them with no fear or need of pity. "Mundo Cruel" will make you laugh and will make you cringe—but what would life be without its ups and downs?" —Charlie Vazquez, Latino Rebels

"Luis Negrón's debut story collection, Mundo Cruel, is a study in verve, sass, and voice, peppered with a dash of spirituality. Short and sweet, this slim volume delivers its wisdom in one breakneck sprint through the cosmopolitan barrio of Santurce, San Juan, Puerto Rico." —Lambda Literary Review

"Luis Negrón's amusing collection of short stories weave gritty, funny, and intimate tales from the eclectic island of Puerto Rico. The stories, while all so unique from each other, share an undercurrent of sexuality that provides a true air of authenticity; the real Puerto Rico, not the fortress-like resorts or tchotchke shops of Old San Juan." —The Advocate

"Negron's characters are so multidimensional that you almost believe it possible to reach into the pages of his tales and offer them some quick advice or stern words of warning. Perhaps the relatability they possess is the scariest part of these tales." —Typographical Era

"In just 96 pages, Luis Negrón is satirical, heartwarming, heartbreaking and laugh-out-loud funny. His collection of short fictional stories, Mundo Cruel, is gay fiction at its best." —The Daily Texan

"Negron's deft touch is humane, warm, and funny. Using economical, vivid prose, he makes a compelling case that assimilation isn't for all, and that those outside the mainstream are worthy of respect." —The Bay Area Reporter

"Negrón trusts his readers and their desire for an expanded worldview, and he delivers on this trust by showing incredible attention to detail and by compelling each voice within his stories to speak to readers' capacity for compassion and critical thought." —Portland Book Review