High on the Hog: A Culinary Journey from Africa to America (Paperback)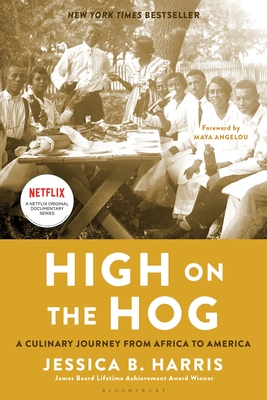 $20.00
This item is out of stock with our warehouse. Some recently published books may be in stock @ Room. Email to check.
Description
---
New York Times bestseller
From the Winner of the James Beard Lifetime Achievement Award
Now a Netflix Original Series

The grande dame of African American cookbooks and winner of the James Beard Lifetime Achievement Award stakes her claim as a culinary historian with a narrative history of African American cuisine.

Acclaimed cookbook author Jessica B. Harris has spent much of her life researching the food and foodways of the African Diaspora. High on the Hog is the culmination of years of her work, and the result is a most engaging history of African American cuisine. Harris takes the reader on a harrowing journey from Africa across the Atlantic to America, tracking the trials that the people and the food have undergone along the way.

From chitlins and ham hocks to fried chicken and vegan soul, Harris celebrates the delicious and restorative foods of the African American experience and details how each came to form such an important part of African American culture, history, and identity. Although the story of African cuisine in America begins with slavery, High on the Hog ultimately chronicles a thrilling history of triumph and survival. The work of a masterful storyteller and an acclaimed scholar, Jessica B. Harris's High on the Hog fills an important gap in our culinary history.
About the Author
---
Jessica B. Harris is the author of eleven cookbooks documenting the foods of the African Diaspora, including The Africa Cookbook and The Welcome Table, and has written and lectured widely about the culture of Africa in the Americas. A professor at Queens College, CUNY, she also consults at Dillard University in New Orleans, where she founded the Institute for the Study of Culinary Cultures. She was recently inducted into the James Beard Foundation's Who's Who of Food and Beverage in America.
Praise For…
---
"Absorbing . . . Ms. Harris has an eye for detail and an inquisitive manner on the page, qualities that take any writer a long way." - The New York Times

"Harris covers a lot of territory economically, offering a tremendous cast of characters whose names deserve wider renown." - New York Times Book Review

"Our leading historian of African-American cooking continues her quest to trace the multiplicity of ways that American food has been enriched-and in many ways created-by the Africans who were forced to immigrate to North America and their descendants." - Vogue.com

"Anyone interested in food history will find plenty to savor in Jessica B. Harris's latest book." - Saveur

"A satisfying gumbo of info, insight and research." - USA Today

"[A] passionate perspective on the culinary history of the African diaspora." - Booklist

"There is more than enough for every taste in [High on the Hog]." - Chicago Tribune

"Harris's flavorful writing moves with an effortless voice that you feel could recite most of these pages from loving memory. As much historical document as ethnography of a vital and rich gastronomy, High on the Hog is a book to make your mouth water." - Paste Magazine

"Rejoice, all you lovers of the personal and inimitable voice of Jessica B. Harris. In High on the Hog, she has woven her own story into the epic of the African Diaspora, using food to illuminate the intertwined tapestries of Africa, Europe, and America. From General George Washington's black cook Hercules to New Orleans' famed Dooky Chase, she shows how important are the African underpinnings of the American table. Harris's passionate devotion to languages and history, together with her own compassion and wit, resonate with the humanity she espouses in all her books, but especially this one." - Betty Fussell, author of RAISING STEAKS and MY KITCHEN WARS

"High on the Hog is a sweeping yet intimate view of food in African American life and the profound influence of blacks on American food culture. It is unusually well crafted and written with style and grace. Harris is an engaging guide in this journey that begins in Africa and ends in the twenty-first century. Her personal vignettes provide vivid detail of her experiences at sites of historical importance to the subject. She has rescued from obscurity many historical figures who make for fascinating reading and demonstrate the great range and diversity of African American achievement in areas of food culture." - Charles Reagan Wilson, Kelly Gene Cook Sr. Professor of History and Southern Studies, Center for the Study of Southern Culture

"In High on the Hog, the inimitable Jessica B. Harris tells the story of the African American diaspora from the perspective of an accomplished food historian. Food, she tells us, is a metaphor for society. If so, I can't think of a better one. From slave food to Taste of Ebony, this is a gripping saga laced with descriptions of food that will make your mouth water." - Marion Nestle, NYU professor and author of FOOD POLITICS and WHAT TO EAT

"If you're not familiar with Dr. Jessica B. Harris or her groundbreaking book, then you are missing a critical piece of American history." -Medium