The Message Bible: New Testament (CD-Audio)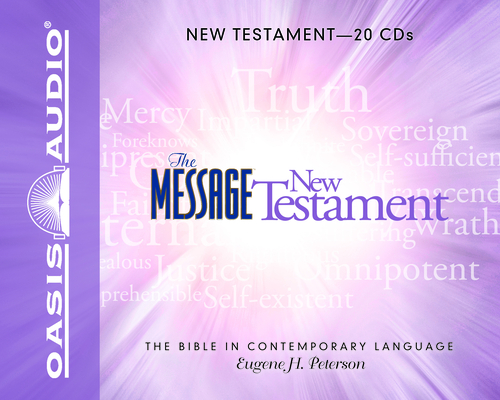 $39.99
This item is out of stock with our warehouse. Some recently published books may be in stock @ Room. Email to check.
Description
---
"This is how much God loved the world: He gave his Son, his one and only Son. And this is why; so that no one need by destroyed; by believing in him, anyone can have a whole and lasting life." Those familiar with any part of the Bible will recognize John 3:16, with a mind-altering difference. The words are fresh, new, and sound like the 21st century. That's because they are from The Message, a presentation of the Word of God crafted for the modern age. Eugene H. Peterson, translator and editor, learned from his years of teaching and pastoring that most people, through familiarity or frustration with the Bible, were missing the whole message of Scripture, "the Word that God uses to create and save us, heal and bless us, judge and rule over us." So, he set out to give us that Word in language we use every day - an audio Bible that would penetrate our hearts and minds, transforming us day by day into the person God desires us to be. For more than 6 million readers, Eugene Peterson's unique style has opened up new understanding and insight into God's Word.
About the Author
---
Eugene H. Peterson is a writer, a poet, and a retired pastor. He has authored more than 34 books (not including The Message) and is a contributing editor for Leadership. He is Professor Emeritus of Spiritual Theology at Regent College in Vancouver, British Columbia. Eugene also founded Christ Our King Presbyterian Church in Bel Air, Maryland, where he ministered for 29 years. He lives with his wife, Jan, in Montana.