The Way to Black Belt: A Comprehensive Guide to Rapid, Rock-Solid Results (Paperback)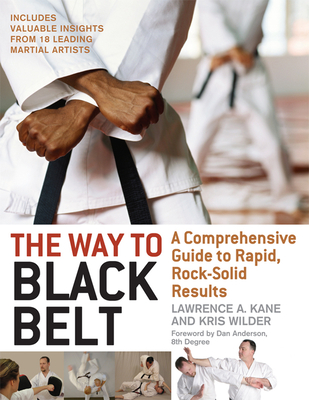 $26.95

In stock with our warehouse--usually ships within 1-7 days. May or may not be in stock at Room.
Description
---
Cut to the very core of what it means to be successful in the martial arts.
Earning a black belt can be the most rewarding experience of a lifetime, but getting there takes considerable planning. Whether your interests are in the classical styles of Asia or in today's Mixed Martial Arts, this book prepares you to meet every challenge. Whatever your age, whatever your gender, you will benefit from the wisdom of master martial artists around the globe, who share more than 300 years of combined training experience. Benefit from their guidance during your development into a first-class black belt.
The Wisdom of...
Iain Abernethy
Dan Anderson
Loren Christensen
Jeff Cooper
Wim Demeere
Aaron Fields
Lawrence Kane
Rory Miller
Martina Sprague
Phillip Starr
Jeff Stevens
Kris Wilder
...and many more.
Packed with actionable information, The Way to Black Belt will teach you how to set goals, find a good instructor, monitor your progress, overcome plateaus in your training, take advantage of learning opportunities, and work through the inevitable injuries that come with rigorous martial arts training.
Putting your skills to the test at each developmental stage of your training requires a certain mental 'clarity.' The authors examine what this means, how to find it, and how to make sure that when the time comes you are 100% prepared.
If you are serious about your martial arts training, The Way to Black Belt will arm you with the information you need to swiftly become a highly skilled, well-qualified black belt.
About the Author
---
Lawrence A. Kane is the author of Surviving Armed Assaults, Martial Arts Instruction, and Blinded by the Night, and co-author of The Way of Kata, The Way to Black Belt, and The Little Black Book of Violence. A paid book reviewer for ForeWord magazine and Clarion Reviews, he consults with other authors from time to time to help assure realism in their novels, particularly in fight scenes. Lawrence lives in Seattle, WA. Kris Wilder began his martial arts training in 1976 in the art of Tae Kwon Do. He has earned black belt-leve ranks in three arts: Tae Kwon Do (2nd Degree), Kodokan Judo (1st Degree), and Goju-Ryu Karate (5th Degree), which he teaches at the West Seattle Karate Academy. He is a regular columnist for Tradition Karate Magazine.