Here, There and Everywhere: My Life Recording the Music of the Beatles (Paperback)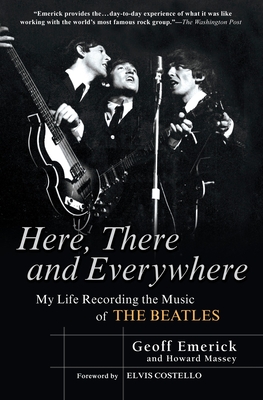 $18.00
This item is out of stock with our warehouse. Some recently published books may be in stock @ Room. Email to check.
Description
---
An all-access, firsthand account of the life and music of one of history's most beloved bands--from an original mastering engineer at Abbey Road
Geoff Emerick became an assistant engineer at the legendary Abbey Road Studios in 1962 at age fifteen, and was present as a new band called the Beatles recorded their first songs. He later worked with the Beatles as they recorded their singles "She Loves You" and "I Want to Hold Your Hand," the songs that would propel them to international superstardom. In 1964 he would witness the transformation of this young and playful group from Liverpool into professional, polished musicians as they put to tape classic songs such as "Eight Days A Week" and "I Feel Fine."
Then, in 1966, at age nineteen, Geoff Emerick became the Beatles' chief engineer, the man responsible for their distinctive sound as they recorded the classic album Revolver, in which they pioneered innovative recording techniques that changed the course of rock history. Emerick would also engineer the monumental Sgt. Pepper and Abbey Road albums, considered by many the greatest rock recordings of all time. In Here, There and Everywhere he reveals the creative process of the band in the studio, and describes how he achieved the sounds on their most famous songs. Emerick also brings to light the personal dynamics of the band, from the relentless (and increasingly mean-spirited) competition between Lennon and McCartney to the infighting and frustration that eventually brought a bitter end to the greatest rock band the world has ever known.


About the Author
---
Geoff Emerick joined Abbey Road Studios as an assistant engineer in 1962 and was promoted to full engineer in 1966, leaving to build the Beatles' Apple Recording Studios in 1969. After the dissolution of the Beatles, he continued to engineer for Paul McCartney, as well as artists such as Elvis Costello, America, Jeff Beck, and Art Garfunkel. He has won four Grammy Awards, including a Technical Grammy Award in 2003.
Praise For…
---
Unlike other books detailing the group's recording history, Emerick's provides the kind of day-to-day experience of what it was like working with the world's most famous rock group. (The Washington Post)

There have been hundreds of books about the Beatles, but only a handful from insiders. And for seven years, Emerick was a witness to history who worked alongside the Fab Four and producer George Martin. (The Plain Dealer, Cleveland)