Dime-Store Alchemy: The Art of Joseph Cornell (Paperback)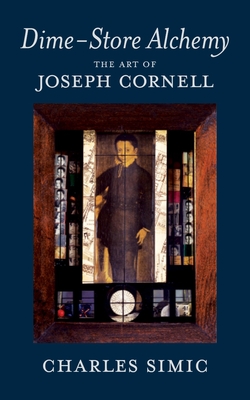 $14.95
Email or call for price.
Description
---
Now in Paperback

In Dime-Store Alchemy, poet Charles Simic reflects on the life and work of Joseph Cornell, the maverick surrealist who is one of America's great artists. Simic's spare prose is as enchanting and luminous as the mysterious boxes of found objects for which Cornell is justly renowned. 

About the Author
---
Charles Simic is a poet, essayist and translator. He has published twenty collections of his own poetry, five books of essays, a memoir, and numerous of books of translations. He has received many literary awards for his poems and his translations, including the Pulitzer Prize, the Griffin Prize and the MacArthur Fellowship. The Voice at 3 A.M., his selected later and new poems, was published in 2003 and a new book of poems My Noiseless Entourage came out in the spring of 2005. His new ebook from New York Review Books is titled Confessions of a Poet Laureate.
Praise For…
---
"Dime-Store Alchemy...is the most sustained literary response this far to Cornell's boxes, montages, and films...incisive, freewheeling, dramatic—a mixture of evocation and observation, as lucid and shadowy as the imagination it celebrates...Dime-Store Alchemy is a meeting of kindred spirits that is itself a work of art." —Edward Hirsch, The New Yorker
 
"A beautiful book that evokes Cornell's artistic spirit." —Harper's Bazaar

"Dime-Store Alchemy: The Art of Joseph Cornell, [is] a fascinating long-out-of-print book that explores the eccentric genius of the artist through the insightful and often obsessive lens of the poet Charles Simic, who examines eight of Cornell's most remarkable boxes. It is, more than anything, a meditation on beauty and the art of imagination. Simic's writing itself is a metaphor for Cornell's thoughtful collages, stitching together elements of texts by some of the artist's favorite poets and authors....What makes Dime-Store Alchemy most exceptional is the elegant parallel between the poetry of Cornell's work and that of Simic's narrative interpretation of it, at once an embodiment of and commentary on the power of remix in creation." -- The Atlantic