I Am the Word: A Guide to the Consciousness of Man's Self in a Transitioning Time (Paperback)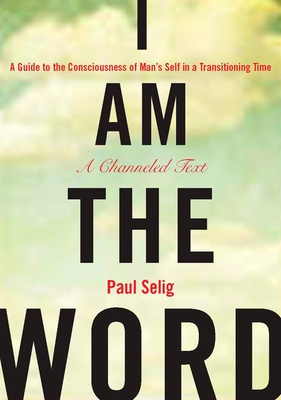 $16.00
Usually Ships in 1-5 Days
Description
---
The channeled Guides of I Am the Word provide a concise and immensely powerful program in self-awareness that can ease negative complexes and align your existence with its highest purpose.
Humanity has lost itself. Both as individuals and as a world culture, we have forgotten our true nature. In I Am the Word, writer and medium Paul Selig has recorded an extraordinary program for self- realization, as dispensed through beings of higher intelligence, sometimes called Guides or Ascended Masters. These figures seek, as they have in the past, to assist men and women in discovering the higher, purposeful nature-or "Christed Self"-that lies dormant within us all.
In a series of enticing, irresistibly practical dialogues, the Guides of I Am the Word identify the emotional "boulders" that displace our authentic selves and consume our potential. The Guides provide to-the-point psychological and existential insights, along with self-developing exercises and affirmations, which begin to strip away residues of fear, self-doubt, and self-suffocating habits.
About the Author
---
Paul Selig is an American medium and award-winning author of channeled literature. He was born in New York City and received his master's degree from Yale. In 1987, Selig had a spiritual experience that left him clairvoyant. As a way to gain a context for what he was beginning to experience, he studied a form of energy healing, working at Marianne Williamson's Manhattan Center for Living and in his own private practice. In the process, he began to "hear" for his clients, and much of Selig's work now is as a clairaudient, clairvoyant, channel, and empath. He has led channeled energy groups for many years. Selig has been featured on ABC's Nightline and on the Biography Channel series The UneXplained, and is the subject of the short documentary film Paul & the Word. He often appears on Coast to Coast AM with George Noory. Also a noted playwright and educator, Selig serves on the faculty of NYU and directs the MFA in creative writing program at Goddard College. He lives in New York City, where he maintains a private practice as an intuitive.
Praise For…
---
Praise for the author:

"Generosity and compassion flow from Paul. His gifts help me find deeper connections to myself and to the world. His guidance is powerfully freeing, and, to me, indispensable." 
—Joan Larkin
 
"In a world of would-be psychics making great claims for themselves with little evidence to back them up, Paul Selig is the real thing." 
— Rachel Pollack, author of 78 Degrees of Wisdom: A Book of Tarot

"Paul and his Guides somehow manage to transmit and then explain ancient gnostic revelations in simple language that anyone can understand. The result is a kind of handbook on how to access and use the creative or 'out-picturing' powers of language and thought (our 'knowing') and the deep, still unconscious divinity of humanity (our 'worth'). A magical book."
—Jeffrey J. Kripal, J. Newton Rayzor Professor of Religious Studies, Rice University

"Through his clear, compassionate, and at times ruthlessly insightful spiritual guides, Paul Selig has written a breathtaking and powerful treatise on the importance of self worth to spiritual knowing. However, this is no armchair new age philosophy. It is a transformational manual dedicated to making this essential knowing accessible. I found this to be one of the most powerful and influential books I have ever read."
 —Jose Luis Stevens Ph.D., Co-founder of The Power Path, psychologist, teacher,                                     and author of Secrets of Shamanism, The Power Path, and Awaken the Inner Shaman
-x