Landwhale: On Turning Insults Into Nicknames, Why Body Image Is Hard, and How Diets Can Kiss My Ass (Paperback)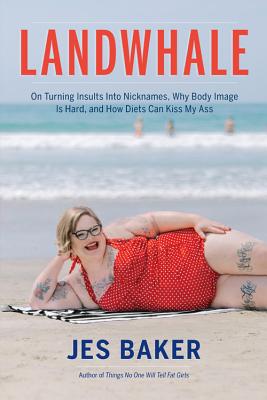 $16.99
This item is out of stock with our warehouse. Some recently published books may be in stock @ Room. Email to check.
Description
---
By the author of Things No One Will Tell Fat Girls and a heroine of the body image movement, an intimate, gutsy memoir about being a fat woman

Jes Baker burst onto the body positivity scene when she created her own ads mocking Abercrombie & Fitch for discriminating against all body types -- a move that landed her on the Today Show and garnered a loyal following for her raw, honest, and attitude-filled blog missives.
Building on the manifesta power of Things, this memoir goes deeply into Jes's inner life, from growing up a fat girl to dating while fat. With material that will have readers laughing and crying along with Jes's experience, this new book is a natural fit with her irreverent, open-book style.
A deeply personal take, Landwhale is a glimpse at life as a fat woman today, but it's also a reflection of the unforgiving ways our culture still treats fatness, all with Jes's biting voice as the guide.
About the Author
---
Jes Baker is a positive, progressive, and magnificently irreverent force to be reckoned with in the realm of self-love advocacy and mental health. She believes in the importance of body autonomy, TYPING IN ALL CAPS, strong coffee, and even stronger language.

Jes is internationally recognized for her writing on her blog, The Militant Baker and for the "Attractive and Fat" campaign. Her extensive body advocacy work has continued to garner attention from hundreds of national and international media networks.

When not blogging, Jes spends her time speaking at universities, taking pictures in her underwear, writing for online publications, working with plus size clothing companies, attempting to convince her cats that they like to wear bow ties and trying to beat her best time when playing The Quiet Game. Jes's record is currently a respectable 15 seconds.

Learn more about Jes at TheMilitantBaker.com.
Praise For…
---
"Baker is back with a captivating look at her life as a fat girl and how our culture still devalues those whose bodies have been deemed unruly. True to form, Landwhale is full of wittiness and a lot of truth."
—Bitch

"It's tempting to call Jes Baker 'fearless,' but to do so would diminish her profound capacity for vulnerability and, by extension, her strength. The thing that makes Jes such a force is that she is so brave, so funny, so blazing, so herself, even in the face of fear. I do not know what we would do without her."—Lindy West, New York Times bestselling author of Shrill

"Funny, kind, wise, generous, and incredibly real-Jes Baker's writing will have you feeling seen, heard, and held. I enjoyed every minute of reading this book, even when it made me cry. Instead of calling to us from a finish line that seems impossibly far away, Jes shares a path to self-love that she's still on with us. And in her story we can find the joy in the journey itself, even if we can't yet see the destination."—Ijeoma Oluo, New York Times bestselling author of So You Want To Talk About Race

"With the perfect tidal wave of humor and candid emotion, Jes once again shows me how to not only love my own body, but every body around me, as well. It's as if she's written Landwhale about the daily complicated love affair I have in my skin, and I'll never stop reading it. All women, at all stages of their journey, must read this book!"—Brittany Gibbons, New York Times bestselling author of Fat Girl Walking and The Clothes Make the Girl (Look Fat)?

"In Landwhale, Jes Baker asks the hard questions of herself and of our fat-hating culture, and she never sugarcoats the answers. Her memoir is full of humor and grace and honesty. She treats the reader like a friend, and on every page she sends the message: You're not alone."—Sarai Walker, author of Dietland

"Jes Baker's words are ointment for the soul. I want to give this book to every person who's ever struggled with their body and its place in this world. Read this book. Thank me later."—Julie Murphy, #1 New York Times bestselling author of Dumplin'

"Jes Baker is building a world I want to live in. In it, fat people can be beautiful, powerful, messy, imperfect, self-aware, courageous, vulnerable, real and human--just like anyone else. Landwhale is a lifeline to that world. I can't thank Jes enough for her funny, brave, empowering work to create it."—Your Fat Friend

"Whether she is reminding how fatphobia fractures the honest memory of our childhood bodies or she is shadow walking us through the stories of shame our own mothers and father's projected onto our bodies, Landwhale is an ode to the bravery and humor it takes to live in this world in a fat body. Praise Jes Baker for this generous, tender tale and for reminding us that it is okay to go ahead and live OUTLOUD because whatever we have most feared, we have already survived."—Sonya Renee Taylor, activist and author of The Body is Not an Apology: The Power of Radical Self-Love

"Funny, frank, and thoughtful."—Booklist

"One of the most honest and eye opening memoirs you'll read this year."—HelloGiggles

"Baker returns with her signature blend of laugh-out-loud, self-deprecating humor and deeply personal ruminations... she attacks our sizeist, fat-phobic culture head on. A must-read for women of all shapes and sizes."—BUST