Stride Control: Exercises to Improve Rideability, Adjustability and Performance (Paperback)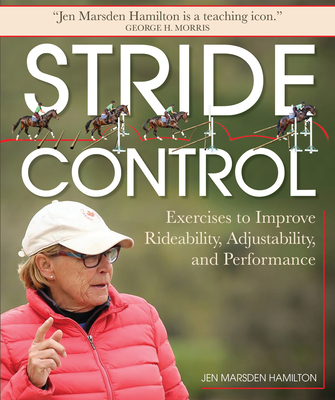 $24.95

Usually Ships in 2-7 Days
Description
---
The only book dedicated to learning to find and ride the ideal jumping distance with fundamental skills and enlightening lessons from one of the best in the business.
Understanding how to count strides helps to develop the rider's eye and "feel." Stride control means producing the correct number of strides and quality of stride to jump the jumps at hand--the emphasis is on the quality of strides, not just the number. It is one of the skills that enables the rider to achieve success, whatever the size of the jumps.
Jen Marsden Hamilton has coached countless riders and horses around the world in the striding techniques that brought her success during her own impressive competitive career, and here Hamilton has compiled her knowledge in a concise book of exercises and insightful strategies. Inside you'll find:
Detailed setup for specific exercises.
Connecting flatwork for between ground poles or jumps, such as transitions and serpentines.
Strategies for completing the exercises and analyzing the outcome.
Appropriate exercises for the rider's desired discipline and level.
About the Author
---
Jen Marsden Hamilton is an internationally renowned equestrian coach. Based in Canada, she travels throughout Canada, the USA, New Zealand, Australia and Kenya training horses and riders. For over 45 years Jen has combined her Bachelor of Education (Acadia University) with the most current coaching and equestrian training to nurture the next generation of star athletes. Jen developed and wrote the National Coaching Certification Program's (NCCP) Canada, Level III - Jumper. As a rider, Jen gained valuable experience that informs her coaching today. She placed fourth in both, the American Horse Show Association's Medal Finals and the Alfred B. Maclay Hunter Seat Equitation Finals at Madison Square Garden. Riding Wee Geordie she reached new heights in puissance classes, jumping six feet and higher. She also holds the distinction of being George H. Morris' first student when he started his career as a professional horseman in 1963. In 1975 Jen was the Martini and Rossi Canadian Horsewoman of the Year. As a coach, Jen has been recognized for her dedication with the Canadian Coaching Association's "Year of the Coach" Coaching Award in 1988, the 3M Coaching Canada Award for Coaching Excellence in 1996. She has also represented her country as a coach to young Canadian riders at international team competitions throughout North and South America. Jen lives in Sweet Corners, Nova Scotia, Canada.