Essential Horse Speak: Continuing the Conversation: Fundamental Communications for Training, Riding and Caring for Your Horse (Paperback)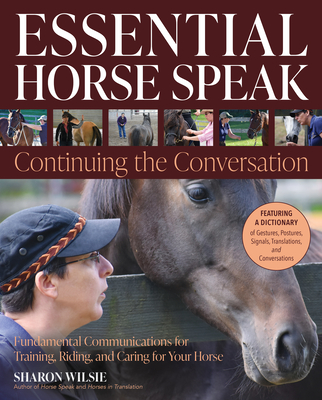 $29.95
Email or call for price.
Description
---
A comprehensive how-to manual for applying Horse Speak(R) principles to common training goals.
In 2016 Sharon Wilsie's Horse Speak: The Equine-Human Translation Guide broke new ground for anyone who works with horses, providing a practical system to "listening" and "talking" to horses in their language instead of expecting them to understand ours. Now Wilsie has provided a comprehensive how-to manual for applying Horse Speak(R) principles to common training goals. Those familiar with Wilsie's work will find novel ideas that have developed since the first book was released, and those new to Horse Speak(R) will be supported with fundamental lessons that will allow them to start having authentic "conversations" with their horses during their very next trip to the barn. With a focus on how horse training methods in general can be improved with certain small changes in movement and mindset, Wilsie has once again created a resource of immense value across the equestrian spectrum. Readers learn:
How to use intensity levels appropriate to a particular lesson.
Why to include enrichment in a training plan.
When to pause, when to allow, and how to adjust expectations.
How to move and breathe like a horse.
The best way to develop a healthy hierarchy with a horse.
How to apply the 15 Buttons of Horse Speak(R) to help any training situation.
Spiraling in and the optimal ways to move into and out of a horse's space.
Signs of when a horse is saying, "No," and when he is saying, "Yes."
How to change patterns of equine behavior in common trouble spots.
With illuminating sections on basic handling, groundwork, and ridden work, Wilsie gives readers everything they need to improve the training techniques they already use by enhancing both horse and human understanding of the process and the goals. The result is improved behavior, enhanced performance, and a happier, healthier equine partner in whatever you choose to pursue together.
About the Author
---
Sharon Wilsie has enjoyed a professional career as a horse trainer/rehabilitation specialist, intercollegiate coach, and riding instructor. She has also been a Reiki Master/Teacher since 1992. Wilsie has developed and implemented a number of programs over the last decade, including volunteer training groups for horse rescues and therapeutic riding centers, Equine Assisted Learning courses, and hundreds of workshops and seminars relating to Equine Facilitated Therapies, alternative training methodologies, and rehabilitation methods for difficult horses and horses with PTSD. Wilsie has worked with students from all ages, including at-risk youth programs. Her passion for helping both people and horses understand themselves and each other better led her to develop the system called "Horse Speak(R)" and the book of the same name, which has become an international bestseller translated into six languages, including German, Dutch, Japanese, French, Italian, and Polish. She is also the author of Horses in Translation and the DVD and streaming program Horse Speak: First Conversations (sharonwilsie.com).