The Fall of the House of FIFA: The Multimillion-Dollar Corruption at the Heart of Global Soccer (Hardcover)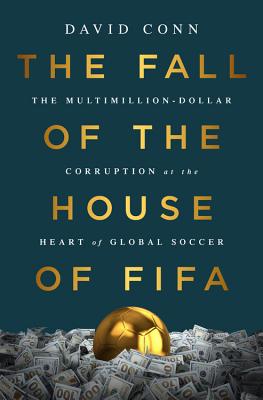 $38.00

In stock with our warehouse--usually ships within 1-7 days. May or may not be in stock at Room.
Description
---
In 2015, FIFA-the multibillion dollar governing body of the world's most-loved sport-was brought down by allegations of industrial-scale bribes, kickbacks, money laundering, racketeering and tax evasion. Beginning with early morning raids in Zurich and the indictment of twenty-seven executives by the US Department of Justice, the rottenness at the core of FIFA seemed to extend throughout all of soccer, from the decision to send the 2018 and 2022 World Cups to Russia and Qatar to lesser known cases of embezzlement from Trinidad to South Africa.

David Conn writes the definitive account of FIFA's rise and fall, covering in great detail the corruption allegations and the series of scandals that continued to shake the public's trust in the organization. The Fall of the House of FIFA situates FIFA's unraveling amidst revealing human portraits of soccer legends such as Michel Platini and Franz Beckenbauer and features an exclusive interview with former president Sepp Blatter. Even as he chronicles the biggest sport scandal of all time, Conn infuses the book with a passionate love of the game, delivering an irresistible read.
About the Author
---
David Conn is the author of The Beautiful Game and an award-winning journalist for the Guardian where he has been a key part of the coverage of the FIFA crisis.
Praise For…
---
"[Conn's] study of Sepp Blatter and other football officials is full of startling material and has cumulative power."—The Guardian

"Conn left no stone unturned, skillfully re-creating a time line of the corruption that threatened the very integrity of the game. His meticulous research and smooth writing style bring this unseemly chapter in FIFA history to a close, with realistic hope for the future of the most popular sport on earth....This is the conclusive account of the recent international FIFA scandal. As we look ahead to the 2018 World Cup, this is also a timely reminder that money and power are always a threat to high ideals in sports."—Library Journal

"When an award-winning journalist like David Conn speaks, you listen. When Conn writes a book, you read it. That's certainly the case with The Fall of the House of FIFA....It's easily the most comprehensive text ever written with regards to the history of FIFA and the recent corruption scandal that rocked the world's most popular sport.....This book is incredibly enjoyable, an experience you won't soon forget. It's a must-read for any soccer fan or even those interested in sports business or old-fashioned investigative journalism. You can't go wrong with this one!"—International Soccer Network

"[Conn's] book shows
that the saga of world soccer's governing body since the 1970s has foreshadowed
geopolitical shifts, notable the waning of the political and economic dominance
of the West."—The New York Reviewof Books