Look: Poems (Paperback)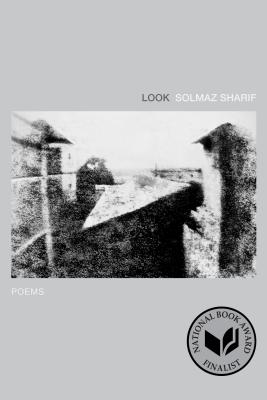 $16.00

In stock with our warehouse--usually ships within 1-7 days. May or may not be in stock at Room.
July 2016 Indie Next List
---
"Sharif's first poetry collection tells the story of the punishing legacy that enduring warfare can have on a family. She expertly utilizes language lifted from the Department of Defense Dictionary of Military and Associated Terms to demonstrate how we have sanitized the language of warfare into something more benign and seemingly less deadly. The essential task of poetry is to engender empathy and to speak truth to power; To that end, Look succeeds in spades."
— Matt Keliher, SubText: A Bookstore, St. Paul, MN
Description
---
*Finalist for the 2017 PEN Open Book Award*
*Finalist for the 2016 National Book Award*

Solmaz Sharif's astonishing first book, Look, asks us to see the ongoing costs of war as the unbearable loss of human lives and also the insidious abuses against our everyday speech. In this virtuosic array of poems, lists, shards, and sequences, Sharif assembles her family's and her own fragmented narratives in the aftermath of warfare. Those repercussions echo into the present day, in the grief for those killed in America's invasions of Afghanistan and Iraq, and in the discrimination endured at the checkpoints of daily encounter.

At the same time, these poems point to the ways violence is conducted against our language. Throughout this collection are words and phrases lifted from the Department of Defense Dictionary of Military and Associated Terms; in their seamless inclusion, Sharif exposes the devastating euphemisms deployed to sterilize the language, control its effects, and sway our collective resolve. But Sharif refuses to accept this terminology as given, and instead turns it back on its perpetrators. "Let it matter what we call a thing," she writes. "Let me look at you."

Daily I sit
with the language
they've made

of our language

to NEUTRALIZE
the CAPABILITY of LOW DOLLAR VALUE ITEMs
like you.

You are what is referred to as
a "CASUALTY."

--from "Personal Effects"
About the Author
---
Solmaz Sharif has published poetry in The New Republic and Poetry, and has received a Rona Jaffe Foundation Writers' Award and a fellowship from the National Endowment for the Arts. She is currently a Jones Lecturer at Stanford University.
Praise For…
---
"[An] excellent debut collection. . . . In Sharif's rendering, Look is at once a command to see and to grieve the people these words describe—and also a means of implicating the reader in the violence delivered upon these people. . . . An artful lexicographer, Sharif shows us that the diameter of a word is often as devastating as the diameter of a bomb."—New York Times Book Review

"Sharif's skillful debut collection draws on a Defense Department lexicon of military terms."—The New York Times Book Review, Editors' Choice

"Remarkable. . . . By turns fierce and tender, the poems are a searing response to American intervention." —The New Yorker

"A restless, gorgeous book of poetry."—Jia Tolentino, The New Yorker Page-Turner

"[Sharif's] poetry flicks between lyric and lexicon while still sounding like music; in her hands, language is as pliant as warmed wax. . . . It is the central miracle of Look that Sharif shows us the real intensity of her conceit without veering into triteness. She is, in turns, icy and searing, but consistently fierce and beautiful." —NPR.org

"Sharif defies power, silence, and categorization in this stunning suite. . . . In form, content, and execution, Sharif's debut is arguably the most noteworthy book of poetry yet about recent U.S.-led wars in Afghanistan, Iraq, and the greater Middle East."—Publishers Weekly *Starred Review*

"[Sharif] forces you to suspend yourself and consider your relationship to language really deeply."—NPR, All Things Considered

"A powerful collection of verse. . . . [Sharif] turns a system of language back onto itself. . . . remarkably profound."—BOMB Magazine

"[Solmaz] Sharif is poised to influence not only literature but larger conversations about America, war, and the Middle East."—The Paris Review

"[An] impressive debut collection. . . . Sharif begins to replace what has been displaced, or to reclaim displacement from official state power. And it produces a vibrant, dissonant poetry that refuses to calcify." —Boston Review

"An urgent collection. . . . [Sharif's poems] work at the more radical aim of challenging the reader's complacency. . . . [They] demand witness."—Bookforum

"A brilliant dive into how war affects people and language. . . . In the vein of Claudia Rankine's Citizen, Look is, at its core, a political call to attention: If we are to combat the effects of war on people and language, we must first understand how war permeates our society and culture. To this end, Look is not only relevant, but eye opening."—The Los Angeles Review

"Astonishing. . . . [Sharif is] a formidable poetic talent. . . . Sharif casts the light of her imagination into the world's darkest places."—San Francisco Chronicle

"Look creates an after-image similar to that of Robin Coste Lewis' National Book Award-winning 2015 debut, Voyage of the Sable Venus, with its meditation on the long aftermath of slavery and diaspora. Like that book, Look feels like a disassembled museum exhibit with the occluded stories — the ones not told — written into view. Look, it compels you to do, and you will."—Los Angeles Times

"Though this is her first book, Look displays none of the hesitations of a debut writer. Sharif is in command of her abilities, the book at once complete and unified, but varied in subject, tone, and form. It's a distinguished introduction."—Literary Hub

"[Sharif] closes the distance between the trigger and the wounded, between language and the body. She makes it impossible to look away."—The Margins

"Look is a book that disrupts, fervently and effectively. The poems within are allergic to complacency and linguistic hypnosis; they constantly reach, inquire, prod, and wonder—sometimes with force—and refuse to allow the reader to be lulled into the sense that everything is okay in the world."—The Rumpus

"Sharif's writing is sparkling, precise, subtle, artful, and true. . . . Through the fine achievement of Look, Solmaz Sharif gives us the gift of her unflinching gaze."—Kenyon Review Online

"Words can be powerful and Sharif uses them to their full potential. . . . This is a brilliant book of poetry."—MuslimGirl

"An important corrective against the weaponised rhetoric we now confront daily in the media and in our personal lives."—The Poetry School

"Look is surprisingly tender for a book of such ferocious poetry. . . . A deeply human attempt to rewrite the vocabulary of war."—Vox

"Sharif's Look is ambitious, intelligent, moving, important, and a little dangerous."—Drunken Odyssey

"Sharif has been deeply and irreparably impacted by war and injustice, and she is deft at modulating her voice in this collection, scaling between broad, abstract critique and deeply intimate reflection."—Fourth & Sycamore

"Creating poetry that is beautiful is hard, and so is creating poetry that is socially important. Poets who manage to do both simultaneously are treasures. In Look, Sharif provocatively turns the veiled, euphemistic language of the American war machine against itself by crafting poetry from words and lines in the United States Department of Defense's Dictionary of Military and Associated Terms. The result is profound, at points humorous, and sobering."—Fourth & Sycamore, Best Books of 2016

"Raw, unsparing poems. . . . Highly recommended."—Library Journal *Starred Review*

"A complicated, commanding account of contemporary American life. . . . The poems in Look shift between clear-eyed description and exhausting wariness, painful in their honest assessment of the destruction caused by our present conflicts and ways of being. . . . Look has been published just when it is most needed. . . . The work [these poems] do is utterly necessary. . . . To see another person's humanness: Look calls us back to this most simple, this most essential task."—Harvard Review

"There are few books, whether debuts or not, to more anticipated than the publication of Solmaz Sharif's Look.—Literary Hub

"Sharif's work transcends the standard tropes of political poetry. Neither didactic nor angry, her poems delicately balance sadness and loss, anxiety and fear and hope and humor. . . . Illuminating and heartbreaking, Look demands that the reader pay attention to their own relationship with the adopted, euphemistic language of power, politics and destruction."—Spectrum Culture

"Look explores the myriad ways how we go to war today reverberates through communities and states and across the world — taking a critical stance against the way humans wage war against other countries, wage war with ourselves, and even wage war against our own language and means of expressing (or not) the inherent truths about our lives. . . . Intimate and haunting."—Bustle

"Sharif's poems are rich with imagery; a single line of hers can tell an entire story."—Huffington Post

"As heart-wrenching as they are intriguing, these highly anticipated poems are beautifully devastating."—BookTrib

"Look achieves Wallace Stevens' critical standard of poetry by deftly responding to the true spirit of the time in which it is written. . . . [Look] is no ordinary book. . . . Crossing into such volatile aesthetic terrain charged with a radical decadence, this collection threatens even the relevance of such superlatives with obliteration. Quite possibly, it deserves to be called dangerous."—Colorado Review

"Urgent, prophetic, and virtuosic. . . . [Sharif] rages against the dull machine of war by turning its weapons against it—into poems with which she hopes to provoke a sleeping community out of its 'learned helplessness.'"—The The Poetry

"There is so much here that compels. . . . Sharif's collection activates the role of observer by stunning back into awareness the wounds that still suppurate, lighting the holes cut from language and their respective tears in American thinking."—The Lit Pub

"Look demonstrates not only that language is an integral part of the military arsenal but also that poetry remains a subversive act, arefusal to submit to despair or amnesia."—The Critical Flame

"Look opens the way for a new internationalist regard in American poetry. . . . Solmaz Sharif has produced an extraordinary and vital work of poetry."—Puritan Magazine

"Solmaz Sharif's Look is something great. She throws us a brilliant, even perfect, book of poems sadly central to the nightmare of today."—Eileen Myles

"By unearthing, decoding, and reconstructing half-hidden symbols of power built into nomenclature as well as everyday expression, the poet serves truth—sometimes delicately, other times brutally. . . . Each phrase pulls the reader into a system of being, personal and historical, and Look, line by line, extends toward prophecy and ('I am singing to her still') harmony." —Yusef Komunyakaa

"Solmaz Sharif's beautiful and important poems patrol the boundaries and limits of language. . . . I can't remember a more distinguished debut."—Eavan Boland

"I haven't been as excited about a first book of poetry for a long time as I am about Solmaz Sharif's forthcoming Look. . . . This feels like an important book, not just a good one."—David Baker