Rope Opera: How WCW Killed Vince Russo (Paperback)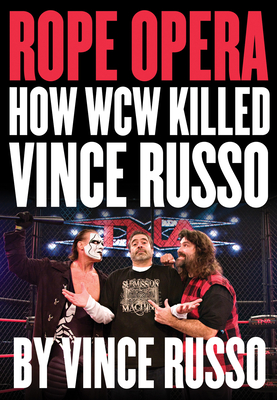 $19.95
This item is out of stock with our warehouse. Some recently published books may be in stock @ Room. Email to check.
Description
---
It's been a decade since The Monday Night War waged between the WWF and WCW generated unprecedented and astronomical ratings, and the landscape of "the sport of kings" has changed radically. But one thing remains constant: the fans chanting "Fire Russo " can still be heard at TV tapings and pay-per-view events across North America. And Vince Russo, the man who has at times been called "the most hated man in professional wrestling" wouldn't have it any other way. In his first book, Forgiven, Vince Russo delivered a modern-day parable about the price of success. In heartbreaking detail, he showed how a "godforsaken business" and the desire for acclaim in his career as a writer for Vince McMahon's WWF led him into a spiritual wasteland. Today, a changed Russo has returned to prominence in wrestling -- a world he both loves and that has, he acknowledges, broken his heart -- as one of the writers and masterminds behind TNA, the world's fastest-growing and most cutting-edge wrestling promotion. For two hours every Thursday, Russo's ideas and words revolutionize wrestling on Spike TV; but what he achieves on Impact on a weekly basis has been many years in the making. He's been known as both the saviour of the WWF and the man who destroyed WCW, and Rope Opera: How WCW Killed Vince Russo is the true, behind-the-scenes story of, quite simply, the rise and fall and rebirth of professional wrestling. Many have tried to explain the inner workings of wrestling's most turbulent era -- but this is the first time someone in the centre of the maelstrom has ever laid everything bare. In returning to the page to take readers from the death of WCW to the rise of TNA, Vince Russo has crafted his most remarkable storyline: that a grown man can come to terms with, and find peace within, the insanity of the squared circle.
About the Author
---
Vince Russo landed a job as a freelancer at WWF Magazine. A year later, he became its editor. After a successful run at WWF, rival organization WCW hired him away to head their creative department. In 2002, Russo returned to the WWE as the creative force behind NWA-TNA. He retired from the business to become a Christian minister. His first book was Forgiven (ECW Press).