Beer, Blood & Cornmeal: Seven Years of Incredibly Strange Wrestling (Paperback)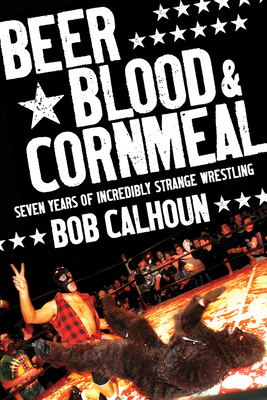 $19.95
This item is out of stock with our warehouse. Some recently published books may be in stock @ Room. Email to check.
Description
---
Incredibly Strange Wrestling was the bastard offspring of post-punk garage rock and masked Mexican lucha libre. Fielding a cast of crazed characters with names like El Homo Loco, Macho Sasquatcho and El Pollo Diablo, the show lived up to its name. Christians fought lions, Ku Klux Klowns squared off against Hasidic Jews and Bigfoots and bears mauled hapless hippies in some of the most surreal grappling bouts ever staged. And if that wasn't enough, cult bands such as NOFX, The Dickies and The Donnas provided the raucous rock and roll in between the highflying mayhem. ISW emerged from the back alleys and seedy clubs of San Francisco's South of Market scene to headline the historic Fillmore and barnstorm North America on the Van's Warped Tour. At the height of its popularity, Green Day's Billy Joe Armstrong and Metallica's James Hetfield could be seen tossing tortillas (which the promoters supplied) at ringside with the rest of the hell heads, boozehounds and tattooed party girls that made up ISW's rabid following. Bob Calhoun broke into ISW as an untrained grappler and rose through the ranks to become one of the creative forces behind the subversive carnival. In his new memoir, Beer, Blood and Cornmeal, Calhoun delves into the ISW's organized insanity with all of the dark humor that it deserves. It's a story of urban misfits risking their necks for local celebrity in one of America's most famous cities all told against the backdrop of the dot com boom and bust and an increasingly corporate entertainment industry. Beer, Blood and Cornmeal takes the highest tier of the music industry and sends it on a collision course with the lowest rung of the professional wrestling ladder. The threat of real violence is always lurking at the fringes of the fake fights as shows end in riots and wrestlers disturbingly become their squared circle alter egos.
About the Author
---
When he's not being hit by steel chairs or fighting Sasquatches, Bob Calhoun is a San Francisco Bay Area freelance journalist. His work has appeared in The San Francisco Chronicle, Salon.com and "Filmfax." He is the co-author of martial arts and Hollywood stunt legend "Judo" Gene LeBell's autobiography, The Godfather of Grappling.
Praise For…
---
"In this unforgettable insider's account of the bygone era when punk rock and wrestling ruled San Francisco, Bob Calhoun (aka Count Dante) proves that he's still the fastest mouth in the business. You may run, but you won't be able to hide from this gleefully warped tale. I couldn't put it down."  Matthew Polly, author, American Shaolin

"Like music and sex, wrestling is so much more fun when it's local, no-budget, and sleazy."  Jello Biafra, singer, spoken word flamethrower, and former wrestling manager


"Well-observed and sharply funny. [Calhoun's] characterizations nicely communicate the wrestlers' addiction to performance and risk-taking in and out of the ring."  Slam! Sports
"A behind-the-scenes look at one of the best oddities to come out of the Bay Area over the past few decades." 
San Francisco Chronicle
"Calhoun's reflections on his time in ISW make you feel as though you are ringside. . . . His insightful social commentary adds an unexpected dimension as well, enlightening outsiders to San Francisco's rich history and extremely unique culture."  Ottawa XPress
"Calhoun intricately traces the developmental trajectory of [Incredibly Strange Wrestling] . . . the book gives readers a look at a formerly shadowed part of non-mainstream culture. Highly recommended."  Recommended Readings, Butler University
"This book was like candyI could not stop eating it up. . . . A great read."  Maximum Rock & Roll
"For seven years, Calhoun tried to help ISW break through to the mainstream . . .  [and now he] chronicles that unsuccessful questas well as the twisted characters he met along the way." 
Scripps Howard News Service