The Dinosaur Artist Lib/E: Obsession, Betrayal, and the Quest for Earth's Ultimate Trophy (Compact Disc)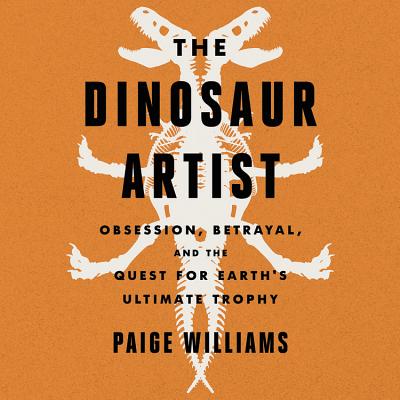 $105.99
This item is out of stock with our warehouse. Some recently published books may be in stock @ Room. Email to check.
Description
---
New Yorker staff writer Paige Williams delves into the riveting and sometimes perilous world of the international fossil trade through the true story of one man's devastating attempt to sell a Gobi Desert dinosaur skeleton from Mongolia, a nation that forbids trafficking in natural history.
The first time Eric Prokopi saw T. bataar bones, he was impressed. The enormous skull and teeth betrayed the apex predator's close relation to the storied Tyrannosaurus rex, the most famous animal that ever lived. Prokopi's obsession with fossils had begun decades earlier, when he was a Florida boy scouring for shark teeth and Ice Age remnants, and it had continued as he built a thriving business hunting, preparing, and selling specimens to avid collectors and private museums around the world. To scientists' fury and dismay, there was big money to be made in certain corners of the fossil trade. Prokopi didn't consider himself merely a businessman, though. He also thought of himself as a vital part of paleontology-as one of the lesser-known artistic links in bringing prehistoric creatures back to life-and saw nothing wrong with turning a profit in the process.
Bone hunting was expensive, risky, controversial work, and he increasingly needed bigger scores. By the time he acquired a largely complete skeleton of T. bataar and restored it in his workshop, he was highly leveraged and drawing quiet scorn from peers who worried that by bringing such a big, beautiful Mongolian dinosaur to market, he would tarnish the entire trade. Presenting the skeleton for sale at a major auction house in New York City, he was relieved to see the bidding start at nearly $1 million-only to fall apart when the president of Mongolia unexpectedly stepped in to question the specimen's origins and demand its return. An international custody battle ensued, shining new light on the black market for dinosaur fossils, the angst of scientists who fear for their field, and the precarious political tensions in post-Communist Mongolia. The Prokopi case, unprecedented in American jurisprudence, continues to reverberate throughout the intersecting worlds of paleontology, museums, art, and geopolitics.
In this gorgeous nonfiction debut, Williams uncovers an untold story that spans continents, cultures, and millennia as she grapples with the questions of who we are, how we got here, and who, ultimately, owns the past.