The Mermaid, the Witch, and the Sea (Hardcover)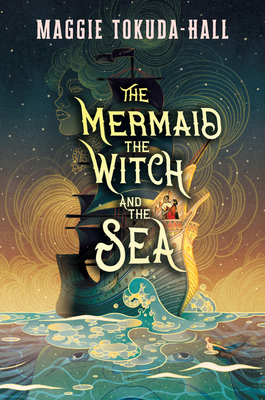 $19.99

In stock with our warehouse--usually ships within 1-7 days. May or may not be in stock at Room.
Description
---
In a world divided by colonialism and threaded with magic, a desperate orphan turned pirate and a rebellious imperial lady find a connection on the high seas.

The pirate Florian, born Flora, has always done whatever it takes to survive—including sailing under false flag on the Dove as a marauder, thief, and worse. Lady Evelyn Hasegawa, a highborn Imperial daughter, is on board as well—accompanied by her own casket. But Evelyn's one-way voyage to an arranged marriage in the Floating Islands is interrupted when the captain and crew show their true colors and enslave their wealthy passengers.

Both Florian and Evelyn have lived their lives by the rules, and whims, of others. But when they fall in love, they decide to take fate into their own hands—no matter the cost.

Maggie Tokuda-Hall's sweeping fantasy debut, full of stolen memories, illicit mermaid's blood, double agents, and haunting mythical creatures conjures an extraordinary cast of characters and the unforgettable story of a couple striving to stay together in the face of myriad forces wishing to control their identities and destinies.
About the Author
---
Maggie Tokuda-Hall is the author of Also an Octopus, illustrated by Benji Davies. This is her first novel. She lives in San Francisco.
Praise For…
---
Careful prose juxtaposes gentleness and brutality, contrasting the tender emotions between Flora/Florian and Evelyn and the violence of a pirate's life. Set against the backdrop of colonial expansion, this nautical fantasy goes beyond mere swashbuckling to examine the impacts of imperialism and misogyny on a diverse cast of varying ethnicities, sexualities, and gender identities. Witches, mermaids, and secret operatives add layers of magic and intrigue to the queer romance at the heart of this book...Absolutely enthralling.
—Kirkus Reviews (starred review)

This intriguing premise blooms into an enchanting, complex tale that explores politics, piracy and the magic of storytelling itself...Queer and gender nonconforming characters are everywhere, and their normalization within the world of the book is remarkable and praiseworthy. A strikingly original and accomplished debut, The Mermaid, the Witch, and the Sea reads like an undiscovered classic with impressively modern flair.
—BookPage (starred review)

Maggie Tokuda-Hall (Also an Octopus) has crafted a brooding, magical adventure with a healthy dose of intrigue. Her prose is delightful, by turns delicate and brutal, as her plot demands. At the heart of this tale about learning when to stand out and when to blend in, lies the importance, imparted by first mate Rake, of "know[ing] your truth, not your story."
—Shelf Awareness for Readers (starred review)

"The Mermaid, the Witch, and the Sea will take you on the journey of a lifetime. Maggie Tokuda-Hall has created characters I've never seen before, then put them in an adventure that feels more real than real life and twice as unpredictable. I wanted to live in the world of this book forever, and I can't stop obsessing about the rich tapestry of pirates, mermaids, witches, and conniving nobles who inhabit it. The Mermaid, the Witch, and the Sea might just remind you of why you fell in love with adventure in the first place and change how you think about the genre forever. I envy anyone who's getting to experience this incredible book for the first time."
—Charlie Jane Anders, author of the Nebula Award–winning novel All the Birds in the Sky

"An utterly romantic and breathless adventure that wouldn't let me sleep until I'd devoured every last word. It's a journey of love, magic, and self-discovery unlike any I've ever read."
—Dahlia Adler, author of Under the Lights and editor of His Hideous Heart

"Arrrrr you ready for the swashbuckling, gorgeous, action-packed world of The Mermaid, the Witch, and the Sea? I've been in love with Maggie Tokuda-Hall's writing for a long time, and I'm thrilled that you get to fall in love with it, too. A stunning fantasy that breaks all the rules—and hearts—in the best of ways."
—Sara Farizan, author of Here to Stay and If You Could Be Mine

"The Mermaid, the Witch, and the Sea is a beautiful confrontation of a book. Maggie Tokuda-Hall explores the cost of violence from every conceivable angle, trusting the reader to follow her intricate story and the complicated characters who inhabit it. Everything has a price, and every adventure takes its toll. The Mermaid, the Witch, and the Sea asks what parts of ourselves we're willing to sacrifice, and who we're willing to sacrifice them for."
—Sarah Gailey, author of Magic for Liars and When We Were Magic

Not just mermaids, a witch, and the sea, Tokuda-Hall also covers pirates, double agents, and the lure of forgetting...this is a dark and creative story, laced with romance, and not for the faint of heart.
—School Library Journal

Tokuda-Hall aptly explores themes of gender identity and misogyny while illustrating colonialism's horrors, in which even children must steal from and harm each other to survive. Interstitials by the sea lend a global viewpoint that ripples through the story without disrupting the narrative.
—Publishers Weekly

Moderate pacing and short stories peppered throughout balance out the more graphic scenes of violence and torture, which may be more appropriate for older readers. Though the romance develops quickly, readers will easily warm up to the tenacious protagonists as they grapple with identity, discover themselves, and stop at nothing short of freedom.
—Booklist

The non-Western-centric orientation is refreshing, and Tokuda-Hall's stinging critiques of colonialism and toxic masculinity hit home. Readers willing to stick with the story will be well rewarded.
—Bulletin of the Center for Children's Books

Told from the point-of-view of several characters, teachers could use this book as a springboard to talk about perspective in writing. It would also work well in a unit on fairy tales since the structure is riddled with small details and side tales that move the plot forward.
—School Library Connection