How to Start a Business: Startup Essentials-The Simple, Step-by-Step Guide to Successfully Start Your Own Business (Online Business, Small Busi (Paperback)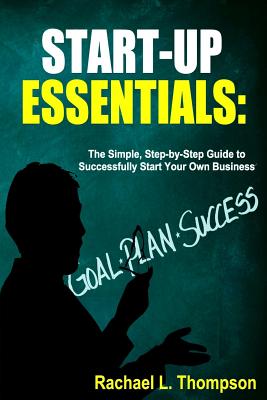 $13.95

In stock with our warehouse--usually ships within 1-7 days. May or may not be in stock at Room.
All sales of this book are final--it is print on demand and may take up to 3 weeks to arrive.
Description
---
Startup Essentials: 50% OFF (Now through Monday)About the Book
It can be stressful to think about starting a business. There is so much that goes into it and finding a place to start can be very overwhelming. This simple guide goes through all the components you will need to know to start any business (online, retail, small business, home-based). It was written by someone who was in your exact same position, only a couple of years ago. It breaks down difficult concepts into simple, actionable steps that you can apply today. It also provides credible links to free resources for additional information, webinars, and templates needed to start a business (not affiliated with author or book).
Who Will Benefit from this Book?
Anyone who: has dreams of owning a business but feels overwhelmed at the thought of starting one, who has an idea and wants to know the steps to turn it into a profitable business, who wants an exact breakdown of the steps needed to start a business. This book is intended for those without extensive business knowledge. It is meant for the lay person who wants to start a business but does not know how.
What You Will Learn
You will learn: 1.) How to develop a profitable idea 2.) Reality of starting a business today 3.) Steps and resources to research business ideas and competition 4.) Business structures and which structure is right for you 5.) How to work with lawyers, accountants, employees and other professionals 6.) Simple tax breakdown 7.) Steps to financial planning 8.) Options to fund your business 9.) The right way to market and brand your business 10.) A simple guide to create a business plan.
How This Book is Different
Uses simple, concrete language and examples to break down hard concepts
Gives an overview of all types of businesses and helps you figure out the right fit
Gives reader actionable steps to succeed instead of simply reciting facts
Table of Contents
Chapter 1: Developing Your Million Dollar Idea
Chapter 2: Business Myths De-Bunked
Chapter 3: Market Research and Competitive Analysis: Who, What, When, Where, How?
Chapter 4: There's More Than One Way to Start a Business-What Right for YOU?
Chapter 5: Nuts and Bolts of Business Structures
Chapter 6: Professional Help - Lawyers, Accountants, Employees, Oh My
Chapter 7: Paying Uncle Sam
Chapter 8: Get Your Money Right - Funding and Finances
Chapter 9: Profits and Pricing
Chapter 10: If You Build It They Will Come (Or They Won't) - Marketing Your Business
Chapter 11: Why Branding is Much More Than Your Logo
Chapter 12: Business Plans Made Simple Conclusion
Download Your Copy Today and Good Luck