Trail of Lightning (The Sixth World #1) (Paperback)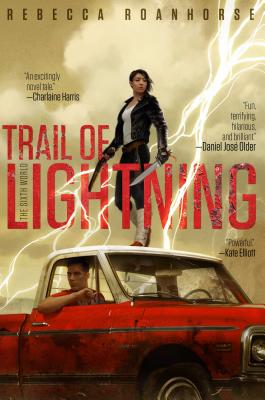 $17.99
Usually Ships in 1-5 Days
Other Books in Series
This is book number 1 in the The Sixth World series.
Staff Reviews
---
I loved this! Set in a post-climate-apocalypse landscape, Maggie Hoskle is a Dinetah monster hunter in the former Navajo reservation. Great magic, high stakes, energetically alive cast of characters, and a troubled, smart, flawed, badass heroine for the ages!
— Gretchen L Treu
A powerful young woman with a troubled past and a hardened heart, Maggie Hoskie fights monsters both literal and metaphorical, all the while fearing the potential monster inside herself. The writing whizzes along and the plot doesn't ever quite succumb to its own tropes—a vibrant cast of secondary characters both human and not flesh out the story and give Maggie plenty to worry about besides herself. The magic is really cool, the world feels energetically alive and varied in a way you don't always see in post-disaster stories. I was so glad to have a story centering Native characters, communities, and contemporary life laid in with a living mythology, thrown into a dystopian-ish scenario. I want to know what happens next! — From Gretchen's Picks
Description
---
2019 LOCUS AWARD WINNER, BEST FIRST NOVEL

2019 HUGO AWARD FINALIST, BEST NOVEL

Nebula Award Finalist for Best Novel

One of Bustle's Top 20 "landmark sci-fi and fantasy novels" of the decade

"Someone please cancel Supernatural already and give us at least five seasons of this badass Indigenous monster-hunter and her silver-tongued sidekick." —The New York Times

"An excitingly novel tale." —Charlaine Harris, #1 New York Times bestselling author of the Sookie Stackhouse and Midnight Crossroads series

"Fun, terrifying, hilarious, and brilliant." —Daniel José Older, New York Times bestselling author of Shadowshaper and Star Wars: Last Shot

"A powerful and fiercely personal journey through a compelling postapocalyptic landscape." —Kate Elliott, New York Times bestselling author of Court of Fives and Black Wolves

While most of the world has drowned beneath the sudden rising waters of a climate apocalypse, Dinétah (formerly the Navajo reservation) has been reborn. The gods and heroes of legend walk the land, but so do monsters—and it is up to one young woman to unravel the mysteries of the past before they destroy the future.

Maggie Hoskie is a Dinétah monster hunter, a supernaturally gifted killer. When a small town needs help finding a missing girl, Maggie is their last best hope. But what Maggie uncovers about the monster is much more terrifying than anything she could imagine.

Maggie reluctantly enlists the aid of Kai Arviso, an unconventional medicine man, and together they travel the rez, unraveling clues from ancient legends, trading favors with tricksters, and battling dark witchcraft in a patchwork world of deteriorating technology.

As Maggie discovers the truth behind the killings, she will have to confront her past if she wants to survive.

Welcome to the Sixth World.
About the Author
---
Rebecca Roanhorse is the New York Times bestselling author of Trail of Lightning, Storm of Locusts, Star Wars: Resistance Reborn, and Race to the Sun. She has won the Nebula, Hugo, and Locus Awards for her fiction, and was the recipient of the 2018 Astounding (formerly Campbell) Award for Best New Writer. Her forthcoming book, Black Sun, is out in October. She lives in New Mexico with her family.
Praise For…
---
A NPR 2018 Great Reads Selection for Best Science Fiction/Fantasy

A Library Journal Best Book of 2018 Selection

A Kirkus Reviews Best of the Best Science Fiction and Fantasy of 2018 Selection

An Amazon Best Science Fiction and Fantasy of 2018 Selection

A B&N Sc-Fi & Fantasy 50 Greatest Debut SFF Novels Ever Written Selection

A Tor.com Best Book of 2018 - So Far Selection

A B&N Sci-Fi & Fantasy Best Book of 2018 So Far Selection

Selected as a Highly Anticipated Summer Read by Amazon, Barnes & Noble, and iBooks.

An Amazon Best Book of the Month Selection

One of Bustle's top 20 books of the decade

"Someone please cancel 'Supernatural' already and give us at least five seasons of this badass indigenous monster-hunter and her silver-tongued sidekick."
— - The New York Times

"What an astonishing tour de force with thrilling action, fascinating characters and a near future vision of America that I've never seen before. Urban fantasy just got a whole new lease on life."
— -- Charlie Jane Anders,

* "Roanhorse vividly depicts Navajo land, legends, and culture in her marvelous fantasy debut."
— - (STARRED REVIEW) Publishers Weekly

* "This exciting postapocalyptic debut, with its heady combination of smartly drawn characters, Wild West feel, and twisty plot, is a must-read."
— -- (STARRED REVIEW) Library Journal

"Super great! It is so exciting to read such a fresh take on Urban Fantasy."
— Ana Grilo,

"It's the perfect book to pack for the beach or on a summer trip."
— – Andrew Liptak

"Roanhorse is indigenizing the future of science fiction and fantasy."
— – SYFY Wire

"What's not to love about Trail of Lightning? It's a frakking awesome novel and a fantastic prelude to what is sure to be a thrilling series."
— – Alex Brown

"This is a fast, fun read."
— - Liz Bourke

"Trail of Lightning has set a new standard for speculative fiction."
— - BookPage

"Roanhorse writes this page-turner with visceral clarity."
— Santa Fe New Mexican

"A sharp, wonderfully dreamy, action-driven novel."
— Kirkus Reviews

"I could have read about Maggie, her badassery, her damage, and her perseverance for hundreds more pages."
— , Anomaly

"It's tense and exciting, and a wholly new turn on post-apocalyptic tropes."
— John Scalzi, New York Times Bestselling author of The Consuming Fire

"Riveting and relentless."
— Victor Lavalle, World Fantasy Award-Winning author