Gigolo Johnny Wells (Paperback)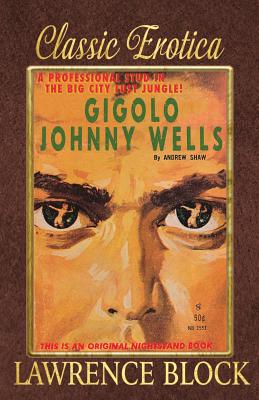 $9.99

In stock with our warehouse--usually ships within 1-7 days. May or may not be in stock at Room.
All sales of this book are final--it is print on demand and may take up to 3 weeks to arrive.
Description
---
17-year-old Johnny Wells was a very handsome young man, and you'd have called him a babe magnet, but I'm afraid they didn't have that phrase back in 1961. He decided to capitalize on his looks and the response they earned from women, invested in a haircut and a good wardrobe, moved out of his slum apartment and into a budget hotel, and reinvented himself as a gigolo.The life transformed him. He took up reading, became devoted to it, and educated himself. His new contacts provided him with polish and sophistication. He moved to a good hotel, put money in the bank. And then an out-of-the-blue bout of impotence left him unfit for his profession.Next up, true love-and another transformation. Before you know it he's an advertising copywriter, a rising star on Madison Avenue. A family man.But fate's not done dealing, and the next card he draws is down and dirty...Gigolo Johnny Wells was published by Nightstand Books in 1961, and elicited a surprising response from whoever was serving as editor at the time. (Harlan Ellison, I've been told, but maybe not. And, really, who cares?) Whoever it was, he loved the book and asked for more. I must have written one, but efforts to find it have failed. And, really, who cares?A note on the name: Several years later, I needed a pen name for a work described as a cross-cultural survey of comparative sex techniques. I'd by then long since forgotten having used the name Johnny Wells in this book (which Nightstand had titled "Lover") and the name I stuck on Eros & Capricorn was John Warren Wells, a name I was to go on using on almost two dozen books of sexually-oriented nonfiction. Let me assure you that Johnny Wells and John Warren Wells are not related.
About the Author
---
Lawrence Block has been writing award-winning mystery and suspense fiction for half a century. His newest book, pitched by his Hollywood agent as "James M. Cain on Viagra," is The Girl with the Deep Blue Eyes. His other recent novels include The Burglar Who Counted The Spoons, featuring Bernie Rhodenbarr; Hit Me, featuring philatelist and assassin Keller; and A Drop Of The Hard Stuff, featuring Matthew Scudder, brilliantly embodied by Liam Neeson in the new film, A Walk Among The Tombstones. Several of his other books have also been filmed, although not terribly well. He's well known for his books for writers, including the classic Telling Lies For Fun & Profit and Write For Your Life, and has recently published a collection of his writings about the mystery genre and its practitioners, The Crime Of Our Lives. In addition to prose works, he has written episodic television (Tilt!) and the Wong Kar-wai film, My Blueberry Nights. He is a modest and humble fellow, although you would never guess as much from this biographical note.