Switching Fields: Inside the Fight to Remake Men's Soccer in the United States (Hardcover)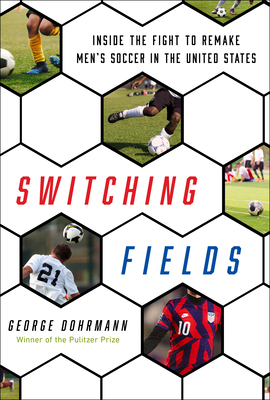 $28.00

In stock with our warehouse--usually ships within 1-7 days. May or may not be in stock at Room.
Description
---
A Pulitzer Prize–winning sports journalist unravels why the United States has failed to produce elite men's soccer players for so long—and shows why a golden era just might be coming.

"George Dohrmann is one of our most perceptive chroniclers of youth sports in the United States, and here he brings his keen eye to the history and present of U.S. men's soccer development."—Grant Wahl, CBS Sports analyst and New York Times bestselling author of Masters of Modern Soccer

The contrast is striking. As the United States Women's National soccer team has long dominated the sport—winners of four World Cups and four Olympic gold medals—the men's team has floundered. They failed to qualify for the 2018 World Cup and three consecutive Olympics, and have long struggled when facing the world's best teams. How could a country so dominant in other men's team sports—and such a global powerhouse in women's soccer—be so far behind the rest of the world in men's soccer?

In Switching Fields, Pulitzer Prize–winning journalist George Dohrmann turns his investigative focus on the system that develops male soccer players in the United States, examining why the country has struggled for decades to produce first-class talent. But rather than just focus on the past, he looks forward, connecting with coaches and players who are changing the way talented prospects are unearthed and developed: an American living in Japan who devised a new way for kids under five to be introduced to the game; a coach in Los Angeles who traveled to Spain and Argentina and returned with coaching methods that he used to school a team of future pros; a startup in San Francisco that has increased access for Latino players; an Arizona real estate developer whose grand experiment changed the way pro teams in the United States nurture talent.

Following these innovators' inspiring journeys, Dohrmann gives ever-hopeful U.S. soccer fans a reason to believe that a movement is underway to smash the developmental status quo—one that has put the United States on the verge of greatness.
About the Author
---
George Dohrmann is a senior managing editor at The Athletic and was previously an investigative reporter at Sports Illustrated. His first book, Play Their Hearts Out, was named one of the fifty best books of literary journalism of the twenty-first century by GQ and called one of the finest sports books of all time by Harper's Magazine and The New York Times. While working at the St. Paul Pioneer Press, he won a Pulitzer Prize for a series of stories that uncovered academic fraud within a college basketball program. Dohrmann lives with his family in Ashland, Oregon, where he coaches soccer and is president of the Ashland Soccer Club.
Praise For…
---
"George Dohrmann is one of our most perceptive chroniclers of youth sports in the United States, and here he brings his keen eye to the history and present of U.S. men's soccer development. You come away with a deeper understanding of the pay-to-play system, how it developed, and why it left out so many Latinos and Black Americans—as well as why that may finally be changing. Writing about a culture isn't easy, but Dohrmann picks the right people to help tell the story in a book that's well worth your time."—Grant Wahl, CBS Sports analyst and New York Times bestselling author of Masters of Modern Soccer: How the World's Best Play the Twenty-First Century Game

"Essential reading for anyone wanting to understand why the U.S. men's team has disappointed in the past but should have a brighter future ahead . . . Dohrmann's reporting takes us beyond the up and down of results to find the structural causes—which, as so often in the United States, have much to do with race. This optimistic book is a pleasure to read."—Simon Kuper, New York Times bestselling co-author of Soccernomics and author of The Barcelona Complex: Lionel Messi and the Making—and Unmaking—of the World's Greatest Soccer Club

"A fascinating insight into how racism, the lust for profit, and a lack of basic infrastructure have held back U.S. soccer."—Jonathan Wilson, author of Inverting the Pyramid: The History of Soccer Tactics

"An exhaustive and necessary examination of what has stood between the U.S. men's national team and relevance in international soccer . . . Dohrmann takes a microscope to the failings of scouting, youth coaching, and, often, imagination in the American game, all in the desperate hope that something will change—and the United States can finally build a winner."—Joshua Robinson and Jonathan Clegg, co-authors of The Club: How the English Premier League Became the Wildest, Richest, Most Disruptive Force in Sports

"Dohrmann masterfully reveals . . . the underlying flaws in the [U.S.] men's program. . . . In an encouraging nod to the future, he highlights examples of coaches and programs working to make effective changes. . . . This call to action provides hope that there could be a way forward for men's soccer in this country."—Booklist

"A well-reported study of how a hidebound sport was saved from itself."—Kirkus Reviews