Three Little Engines (The Little Engine That Could) (Hardcover)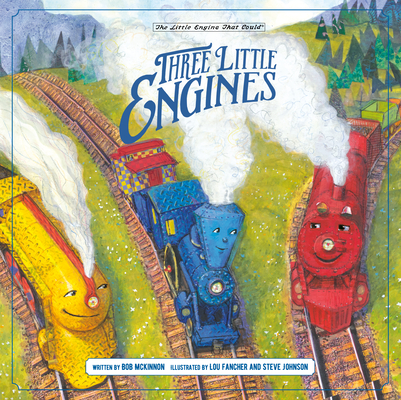 $18.99

Usually Ships in 2-7 Days
Description
---
A gorgeously illustrated, modern retelling of the classic The Little Engine That Could, sharing the timely message that everyone's journey is different, and that sometimes, success comes from a helping hand.

Graduation day is finally here! The Little Blue Engine, the Yellow Passenger Engine, and the Red Freight Engine are excited to take their final test of Engine School: making their first solo trip over the mountain. But each engine encounters different challenges and obstacles on their journey. Gorgeous illustrations by Lou Fancher and Steve Johnson combine with a poignant story told by Bob McKinnon to remind a new generation of readers to "think they can."
About the Author
---
Bob McKinnon is the Director of the Moving Up Media Lab, a nonprofit organization whose mission is to inspire Americans to reflect on who and what has contributed to where they end up in life. He is the author of the Moving Up Mondays blog and the book Actions Speak Loudest: Keeping Our Promise for a Better World. His work has been featured in The New York Times, The Boston Globe, PBS, NPR, Fast Company, and the Huffington Post. He is also an adjunct professor at both the Parsons School of Design and the Colin Powell School of Civic and Global Leadership, where he teaches courses on social mobility and the American Dream.

Lou Fancher and Steve Johnson have illustrated more than fifty books together. A versatile artistic team, they enjoy discovering the perfect style for a variety of texts. Among their books are My Many Colored Days, by Dr. Seuss; Shh! Bears Sleeping, by David Martin; A Poem for Peter, by Andrea Davis Pinkney; and The Salamander Room, by Anne Mazer. The classic book, The Little Engine That Could, is a favorite from their childhoods--and as adults, "I think I can," is a daily mantra. They live in northern California.