The 30-Minute Runner: Smart Training for Busy Beginners (Paperback)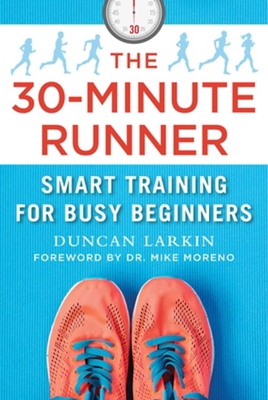 $14.99
This item is out of stock with our warehouse. Some recently published books may be in stock @ Room. Email to check.
Description
---
The 30-Minute Runner, now updated and in paperback, takes a simplified approach to training, which is to break down everything into one thirty-minute session per day, a manageable segment for first-time runners and those who may be in decent shape but lead incredibly busy lives.

Everything in the book, including training schedules, techniques, and tips, is put forth purely in terms of minutes spent running, without any goal paces to worry about, mileage to keep track of, or anything to measure other than time spent out on the roads and trails. The book focuses on how to maximize those thirty critical minutes in order to achieve two primary goals: shedding extra pounds and completing a 5K race.

Author Duncan Larkin, a certified Army Master Fitness Trainer, also covers topics like running for new moms, single-parent training, how to prepare to run your first race, race-day tips, how to train while on business travel, and taking it to the next level, running forty-five and sixty minutes a day (10K and half-marathon schedules). In addition to the running-based guidelines, The 30-Minute Runner also offers nutritional advice and core exercises that complement the thirty-minute runs.
About the Author
---
Duncan Larkin has covered the sport of running for more than a decade. He's a certified Army Master Fitness Trainer and was a top-300 American marathoner back in 2006. He has won the Himalayan 100-Mile Stage Race and the Mohawk-Hudson Marathon. His first book, Run Simple, was published in 2012. Duncan writes about fitness for Outside Magazine, Competitor Magazine, Runner's World, ESPN, and Running Times.

Dr. Mike Moreno is the #1 New York Times best-selling author of the 17 Day Diet. Moreno practices family medicine and serves on the board of the San Diego Chapter of the American Academy of Family Physicians. A graduate of the University of California at Irvine and Hahnemann Medical School, he completed his residency at Kaiser Permanente in Fontana, California.
Praise For…
---
"A quick read that allows the beginner to cut out the fluff and learn how to efficiently self-train in the most time-effective method." —Toby Tanser, author of Train Hard, Win Easy, More Fire and The Essential Guide to Running the New York City Marathon; member of the New York Road Runners Board of Directors

"The 30-Minute Runner is a very practical, un-intimidating, and easy to understand guide for getting into (or back into) running, adopting healthy habits, and making it all work within the constraints of a busy lifestyle." —?Mario Fraioli, Publisher, The Morning Shakeout

"This book speeds up the learning curve of a beginner runner. With it, you now have a superb mentor and guide that can help you take your running to new heights and prevent you from making rookie mistakes. Great for experienced runners, too!" —Brad Hudson, three-time Olympic coach

"The compelling thing about The 30-Minute Runner is that, unlike the parade of get-more-from-less running books on shelves these days, it's not about shortcuts, but about maximum efficiency. Larkin is an engineer who trained himself to run a 2:32 marathon, started a family, and embarked on a writing career while already working full time, and he communicates with refreshing insistence. Those are a few of the good reasons to pay attention to this delightful assortment of advisories." —Kevin Beck, author of Young Runners at the Top, editor of Run Strong, former senior writer for Running Times magazine, and marathon training coach

"Running is a simple, beautiful tool for mental and physical well-being. What can be hard about running, though, is finding a place for it in our busy lives. The 30-Minute Runner is a no-nonsense guide for creating and committing to a sustainable, regular—and most importantly, fun—running habit that fits in with the rest of your life's responsibilities." —?Meghan M. Hicks, Senior Editor, iRunFar.com