The Vanished: The "Evaporated People" of Japan in Stories and Photographs (Hardcover)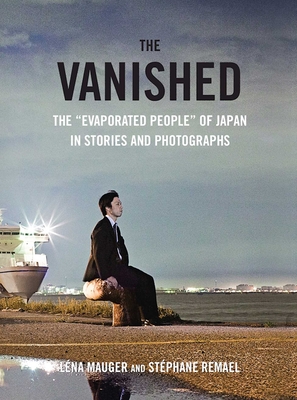 $22.99
This item is out of stock with our warehouse. Some recently published books may be in stock @ Room. Email to check.
Description
---
Every year, nearly one hundred thousand Japanese vanish without a trace. Known as the johatsu, or the "evaporated," they are often driven by shame and hopelessness, leaving behind lost jobs, disappointed families, and mounting debts. In The Vanished, journalist Léna Mauger and photographer Stéphane Remael uncover the human faces behind the phenomenon through reportage, photographs, and interviews with those who left, those who stayed behind, and those who help orchestrate the disappearances. Their quest to learn the stories of the johatsu weaves its way through:

A Tokyo neighborhood so notorious for its petty criminal activities that it was literally erased from the maps
Reprogramming camps for subpar bureaucrats and businessmen to become "better" employees
The charmless citadel of Toyota City, with its iron grip on its employees
The "suicide" cliffs of Tojinbo, patrolled by a man fighting to save the desperate
The desolation of Fukushima in the aftermath of the tsunami

And yet, as exotic and foreign as their stories might appear to an outsider's eyes, the human experience shared by the interviewees remains powerfully universal.
About the Author
---
Léna Mauger is an avid traveler and journalist for the magazines XXI and 6mois. She first explored the subject of Japan's "evaporated people" for a piece in XXI.

Stéphane Remael is a documentary photographer. He has traveled the world to cover stories in Bolivia, Georgia, China, Nepal, and Morocco, among other places. His work has been published in numerous French and international newspapers and magazines such as Newsweek, TIME, the Financial Times, and the Wall Street Journal.
Praise For…
---
"Bears witness to the loneliness and sadness of the 'evaporated people.'" —Kirkus

"Chilling." —New York Post

"An extraordinary book. An investigation that reads like a novel." —Nicolas Demorand, France Inter

"The Vanished is a valuable look at a side of Japan rarely mentioned by its inhabitants. Hats off to Mauger and Remael for investigating areas where 'normal' Japanese don't dare to tread." —Benjamin Boas, Keio University, Tokyo

"Reading The Vanished, I felt like I was really there, traveling together with Léna and Stéphane and discovering with them different layers of understanding deeper than what I apparently see in my daily life here in Tokyo. One of those books that leave an imprint and make you think about what is important in life. I feel the word johatsu will stay in my heart forever." —Hector Garcia, author, A Geek in Japan

"An important book about a facet of Japanese society that often slips below the focal points of other, more sweeping treatments of Japan. . . . I hope the book will be translated into Japanese." —Charles T. Whipple, author, Seeing Japan and A Matter of Tea

"A brilliant and meticulous investigation." —Générations Plus

"Bears witness to the loneliness and sadness of the 'evaporated people.'" —Kirkus

"Chilling." —New York Post

"An extraordinary book. An investigation that reads like a novel." —Nicolas Demorand, France Inter

"The Vanished is a valuable look at a side of Japan rarely mentioned by its inhabitants. Hats off to Mauger and Remael for investigating areas where 'normal' Japanese don't dare to tread." —Benjamin Boas, Keio University, Tokyo

"Reading The Vanished, I felt like I was really there, traveling together with Léna and Stéphane and discovering with them different layers of understanding deeper than what I apparently see in my daily life here in Tokyo. One of those books that leave an imprint and make you think about what is important in life. I feel the word johatsu will stay in my heart forever." —Hector Garcia, author, A Geek in Japan

"An important book about a facet of Japanese society that often slips below the focal points of other, more sweeping treatments of Japan. . . . I hope the book will be translated into Japanese." —Charles T. Whipple, author, Seeing Japan and A Matter of Tea

"A brilliant and meticulous investigation." —Générations Plus