Get out of Your Head and into Your Mind: The Missing Piece to Winning at Barrel Racing Secrets the Pros Don't Tell You (Paperback)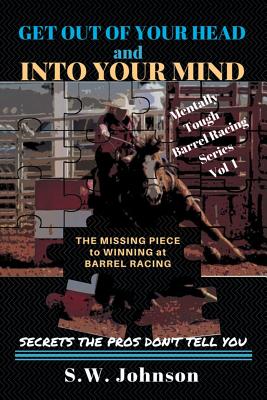 $16.99

Usually Ships in 2-7 Days
All sales of this book are final--it is print on demand and may take up to 2 weeks to arrive.
Description
---
Barrel racers, do you have a burning desire to be at the top of your game? Do you want success so bad you can taste it? Are you tired of wondering why it's so hard to make it? Are you done with making excuses and ready to do what it takes? You've trained so hard, what's left? In this book, find the secret to becoming a winning barrel racer. Top athletes and sports psychologists know that winning is as much mental as physical. Here is your road map to winning through mental toughness. Unleash the champion in you.
About the Author
---
Shelly was born into a horse legacy spanning generations. She grew up riding before she could walk. Her family bred and raised a small herd of horses. Thanks to the knowledge and skilled horsemanship of her father, she was always mounted on a great horse. She competed in the 4-H horse program throughout childhood as well as the National High School Rodeo Association. Shelly is a member of the Women's Professional Rodeo Association and is an active competitor in the Wilderness Circuit. She is a long-time horse breeder and trainer competing in futurities with her young horses as well as open jackpot barrel racing competitions. Her father, Lyman Watkins, was a great horseman and horse trainer with an intuitive understanding of horse behavior and what needed to be done to fix problems. He often successfully took on horses that other trainers had sent away, having advised their owners to send them for dog food because they were untrainable. Lyman miraculously turned them into reliable and useful mounts. Together with her older brother Dale, he developed and patented the Cloverleaf Bitless Bridle (R), and its training and use system which is laid out in the book Secrets That Tame the Wild Ones(c) authored by L. Dale Watkins. Although her father and brother have passed, their legacy lives on in Shelly's skill and knowledge that was taught to her by these great horsemen. She uses the Cloverleaf Bitless Bridle(R) system in her training program. Another of her older brothers, Tom Watkins, still custom manufactures a limited number of the bridles. Shelly has overcome several serious and debilitating accidents. She was told on more than one occasion she would likely never ride again and would certainly never compete at a pro level again. Shelly's mentally tough strategies brought her back from the depth of despair, and devastating injuries to once again compete as a professional. Shelly holds a Bachelor's degree in Nursing Science from the University of Utah, a Masters of Nursing Science degree from Grand Canyon University and is a certified Sports Hypnotist. She taught as an adjunct nursing professor at Mohave Community College and has spent more than 20 years caring for patients in the fields of geriatrics, hospice, and oncology. Her nursing work with cancer patients has given her great insight into the healing power of the mind. She has incorporated eastern healing techniques that utilize the powerful mind-body connection in her nursing and personal practices. She has studied and practiced intentional creation and manifestation for more than 25 years and has been a personal witness to miraculous events brought about by the power of belief Says Shelly, "Horses hold a profound healing power for me. I have taught and helped many students gain insights into themselves by looking at how their beliefs are manifested through their horses and how changing and strengthening those beliefs through the development of mental skills changes their horse's response. I want to help people, especially women, to become strong. Our equine partners reflect us, so we know where to begin the work." Her book Get out of Your Head and Into Your Mind is the first volume in 'The Mentally Tough Barrel Racer' series.