The Fight to Vote (Hardcover)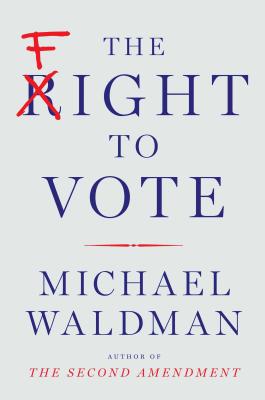 Description
---
"Important and engaging" —The Washington Post

From the president of NYU's Brennan Center for Justice and the author of The Second Amendment, the history of the long struggle to win voting rights for all citizens.

In The Second Amendment, Michael Waldman traced the ongoing argument on gun rights from the Bill of Rights to the current day. Now in The Fight to Vote, Michael Waldman takes a succinct and comprehensive look at a crucial American struggle: the drive to define and defend government based on "the consent of the governed." From the beginning, and at every step along the way, as Americans sought to right to vote, others have fought to stop them. This is the first book to trace the full story from the founders' debates to today's challenges: a wave of restrictive voting laws, partisan gerrymanders, the flood of campaign money unleashed by Citizens United. Americans are proud of our democracy. But today that system seems to be under siege, and the right to vote has become the fight to vote.

In fact, that fight has always been at the heart of our national story, and raucous debates over how to expand democracy have always been at the center of American politics. At first only a few property owners could vote. Over two centuries, working class white men, former slaves, women, and finally all Americans won the right to vote. The story goes well beyond voting rules to issues of class, race, political parties, and campaign corruption. It's been raw, rowdy, a fierce, and often rollicking struggle for power. Waldman's The Fight to Vote is a compelling story of our struggle to uphold our most fundamental democratic ideals.
About the Author
---
Michael Waldman is president of the Brennan Center for Justice at NYU School of Law, a nonpartisan law and policy institute that focuses on improving the systems of democracy and justice. He was director of speechwriting for President Bill Clinton from 1995 to 1999 and is the author of The Fight to Vote, My Fellow Americans, POTUS Speaks, and three other books. Waldman is a graduate of Columbia College and NYU School of Law. He comments widely in the media on law and policy.
Praise For…
---
"Waldman's important and engaging account demonstrates that over the long term, the power of the democratic ideal prevails — as long as the people so demand."
— The Washington Post

"An engaging, concise history of American voting practices, and despite a heavily partisan treatment of today's "voting wars," it offers many useful reforms that advocates on both sides of the aisle should consider."
— The Wall Street Journal

"Waldman draws a clear picture full of amusing anecdotes of voting and voting rights over the past 228 years. He demonstrates how the political establishment, fearing change, usually has been behind the people on this question."
— Buffalo News

"As Waldman makes clear in this important book, the fight to vote has been at the heart of U.S. history, as have the countless debates over how to expand democracy even as 'some fought to gain a voice in their government' while 'others fought just as hard to silence them.' . . . Waldman's bracing account of voting rights and political equality arrives right on time for the 2016 presidential campaign."
— Booklist, starred review

"[An] important new book."
— E.J. Dionne Jr.

"Using a wealth of solid historical scholarship and political biography, Waldman's work makes the contemporary issues concerning the right to vote accessible to the average American. When read along with Robert E. Mutch's Buying the Vote, any citizen concerned about the health of America's democracy will be well informed."
— Library Journal

"A compelling—and disheartening—history of voting in America . . . Waldman urges citizens to find a way to celebrate democracy and reinvigorate political engagement for all. A timely contribution to the discussion of a crucial issue."
— Kirkus Reviews

"Michael Waldman's masterly history reminds us that 'We the People' can and must restore our experiment in Constitutional freedom."
— Taylor Branch, author of America in the King Years

"The Fight to Vote is an important and powerful reminder that we forget American history at our peril: that democracy was hard-won and that with the right to vote once again under attack, it's ours to lose."
— Linda Greenhouse, Knight Distinguished Journalist in Residence and Joseph Goldstein Lecturer in Law at Yale Law School

"Through this book, Michael Waldman delivers a message every American needs to hear. The struggle for the right to vote is not over. It is still being waged even today. We must use it or we can lose it."
— Rep. John Lewis

PRAISE FOR THE SECOND AMENDMENT:

"With wit and erudition, Michael Waldman tells the story of how the Amendment's meaning was turned upside-down and inside-out."
— David Frum, author of The Right Man: An Inside Account of the Bush White House

"Waldman vividly explains why this obscure, minor provision has become so controversial."
— Jack Rakove, author of Original Meanings

"Here is a smart and cogent history that performs a large public service."
— Sean Wilentz, author of The Rise of American Democracy

"Anyone interested in the hot button issue of guns and their place in our society will find this book a helpful tool for ongoing discussion."
— The Decatur Daily (Alabama)

"A smart history of guns and the US."
— The Los Angeles Times

"Rigorous, scholarly, but accessible book."
— The New York Times

"Compelling"
— The Washington Post

"An insightful look at both the historical foundation of the Second Amendment . . . a welcome re-injection of historical context into the present debate over the rightful role of guns in American culture."
— The Chicago Tribune

"A welcome addition to the ongoing debate over gun rights and gun control in America."
— The Buffalo News

"Terrific"
— Nicholas Kristof

"The most comprehensive, accessible, and compelling version of the story in print."
— Joseph J. Ellis, author of Founding Brothers