The Greatest Boxing Stories Ever Told: Thirty-Six Incredible Tales from the Ring (Paperback)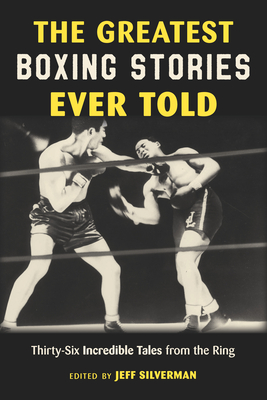 $19.95

In stock with our warehouse--usually ships within 1-7 days. May or may not be in stock at Room.
Description
---
"Every once in a while, a book publisher comes up with a great concept for a series of books that deserve more than superficial recognition. Such a series is The Greatest (fill in the blank) Stories Ever Told, anthologies that should win places on many bedside tables. On the long winter nights that lie ahead, such stories make great reading." -The Lexington County Chronicle "THE GREATEST BOXING STORIES EVER TOLD assembles some of the best writing available on the sweet science and illuminates boxing in all its literal and symbolic glory. Each piece in this varied collection connects with the sort of powerful punch one can only expect from the world's greatest writers." -Boxing Digest In THE GREATEST BOXING STORIES EVER TOLD, editor Jeff Silverman delivers a knockout collection of not only the best writing ever penned on the subject of "the sweet science," but also stories that relate to the larger human issues the brutal sport has come to embody. Whether the story be about the triumph of a heroic champion, a tragic death in the ring, the shady tactics of fight promoters, or victories against seemingly impossible odds, each story in this varied collection connects powerfully with the reader. THE GREATEST BOXING STORIES EVER TOLD is the perfect gift for fight fans and non-fight fans alike, and with its allstar lineup of "contenders" throwing "haymakers" and "uppercuts" in every round, it stands as the definitive volume of short stories on this enduring pugilistic pastime.
About the Author
---
Jeff Silverman, a former columnist for the Los Angeles Herald Examiner, has written for The New York Times, the Los Angeles Times, and several national magazines. He is also editor of The Greatest Baseball Stories Ever Told, Lardner on Baseball, The Greatest Golf Stories Ever Told, Classic Golf Stories, and Bernard Darwin on Golf. He lives in West Chester, PA.